Notes from the Manager
Related Strips: #591: Blood Thirst; #592: It's All Fun and Games…; #593: Accidents Will Happen; #594: Grown Ups
(I borrowed this strip's title from some ridiculous-looking romance that came out last year, by the way. It's not a typo.)
If you don't already have a copy of the Multiplex: Enjoy Your Show (Book 1) print collection, it is now listed in the June PREVIEWS catalog (page 258). It's a Diamond Comics Staff Pick, in fact! Ask your local comics shop to get you a copy sometime this month, and save yourself the shipping. If they have a Diamond account (and if they're a comic book store, chances are they do), that can get it for you.
While you're at it, tell 'em how much you love Multiplex, so they order a few extra copies. :)
I hope you enjoyed the three strips this week — or five, if you count the two bonus comics from Chapter 6 that posted over at Deleted Scenes. I'm in a race to get to finish Book 5 before July 10th (the sixth anniversary of Multiplex), so I'll keep the updates coming as fast as I can. If you'd like to help me do that (and in the process help Book 2 come sooner, rather than later), please feel free make a donation or buy something from the Multiplex Store!
See you next week!
Multiplex News & Updates
Bonus comics, drawings, and
other awesome stuff
Saturday, May 27, 2017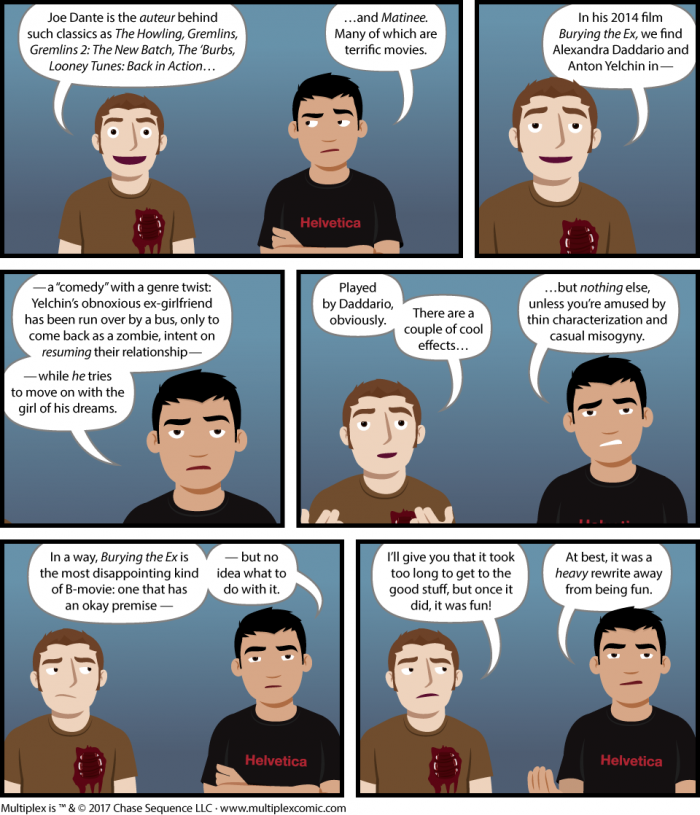 Hello, Multiplex readers!
A quick update on what's going on with everything Multiplex-related:
The storyboards for the Multiplex 10 animated short are DONE. Rough, but done. Pre-production continues for the next few weeks with the construction/editing/etc. of the first rough animatic and design/illustration work.
Although the Kickstarter project has ended, you can still support the project (or my comics work) by becoming a Patreon patron or making a one-time PayPal donation.
Multiplex: The Revenge (Book Three) is being shipped out to Kickstarter backers and will be available for purchase to everyone else on June 14th — as will the Multiplex mini-posters set.
I will be at Wizard World Philadelphia (Friday–Sunday only) with copies of Book Three, so if you're in that neck of the woods, you can get it a little early. :)
Multiplex Movie Reviews like this one, bonus comics from Multiplex: The Best Laid Plans (Book Four), and other stuff are being exclusively posted to Patreon a couple of times a week. Er, except for this one, obviously.
Other Recent Posts