Notes from the Manager
Related Strips: #589: Dream Come True
Thanks again to TJ Tague for Wednesday's guest strip! I'll get it onto the Guest Strips page as soon as I can.
Fans of the Nightmare on Elm Street movies will probably recognize panel 10 as being a reference to a scene in Nightmare on Elm Street 3, but I don't think you really need to know that to follow what's going on. I mean, seriously, you've all figured out by now that if there isn't a panel border, it's not real, right? (If the girl in bed with Jason changing every panel wasn't enough of a hint there.)
I like to think that Jason and Kurt actually did act out the bit in panels 4 and 5 to scare the Blogger, though, and that it wasn't only Jason's dream (within a dream).
I'll be reminding you (many times, probably) in the near future, but Multiplex: Enjoy Your Show will be listed in Diamond Comics' June PREVIEWS catalog (for sale in August). Its order code is JUN110987. Especially for those of you who live overseas, where the cost to ship the book often exceeds the cost of the book itself, this will your best chance to get the book! Have your local comics shop (which almost undoubtedly has an account with Diamond) order the book for you along with their regular order!
Send them over to http://www.multiplexcomic.com/enjoyyourshow if they want to learn more about the book, or read some clips from the many positive reviews the book has gotten since it was first published! The better the book sells through Diamond, the more likely they will carry Book 2 — which will also have some impact on whether Book 2 arrives sooner, rather than later… or (gulp) not at all.
Back to the subject of the strip, though: Have we got any other Nightmare on Elm Street fans out there? I like 1, 3, 4, and 5, despite all of their flaws — and 3 is actually my favorite. 2 and 6 were garbage, though, and I never saw any of the others. What I loved about 3 and 4 is the idea that Freddy actually has opponents who could sort of… but never really seem to… actually challenge him in a meaningful way. Those films don't really explore that idea as much as I would have liked, but they're still fun films. (I'd love the chance to write a Nightmare on Elm Street comic, now that I think about it… Somebody make that happen.)
Multiplex News & Updates
Bonus comics, drawings, and
other awesome stuff
Saturday, July 1, 2017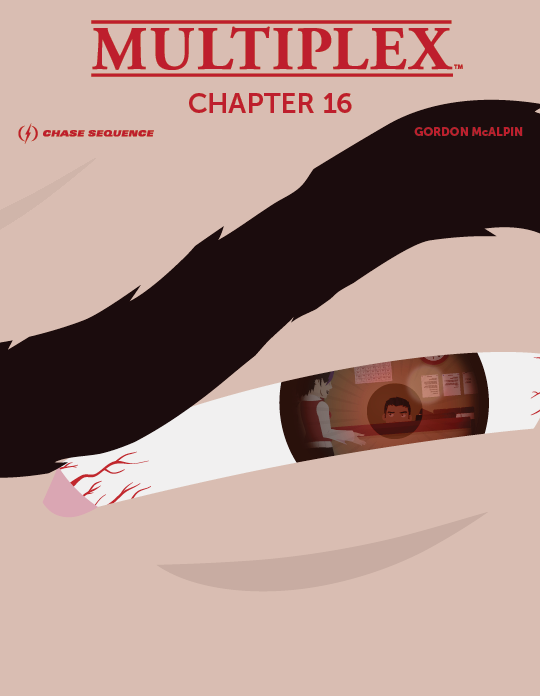 $3+ Patreon supporters get this one for free (until the next eBook is available), but for the rest of youse: The Multiplex: Chapter 16 eBook is now available!
Chapter 16 collects strips #339 –362 from the Multiplex archives, plus four bonus comics and one "extended scene" not found in the archives! Chapter 16 costs $1.99.
Supporting the Multiplex chapter eBooks helps make future Multiplex print collections possible. Thank you for your support!
Other Recent Posts