Notes from the Manager
Related Strips: #575: A Rose Is a Rose Is a Rose Is a Rose
A note about Angie's line: this strip continues from last week's Thursday comic, when they saw Insidious after close — so the events of this strip take place technically on Friday, April 1st.
EDIT: Since someone asked, Angie's boyfriend's Duncan first appeared in #418.
I managed to get both Insidious and Source Code in this weekend, as I'd hoped. I'll try to put up a view of each over at Deleted Scenes (T/Th), and I'm aiming for three updates this week (M/W/F), so check back soon and check back often!
Short version is, I liked both of them quite a bit:
Insidious was a particularly pleasant surprise, because I felt it lived up to its early reviews: it's a very good (if not spectacular) horror film that doesn't really break the mold, but manages to entertain throughout. There's a turn in the third act that will lose a lot of people (judging from other reviews and my friend Shanin's reaction), but I wasn't one of them.
Source Code was pretty much everything you'd expect it to be from the trailer, but one twist at the end seemed a little silly and extraneous to me. I'm still kind of turning it over in my head, but ultimately, I don't really care that much about it. The meat of the movie was smart, engaging, and a whole lot of fun.
What'd you see, and what'd you think?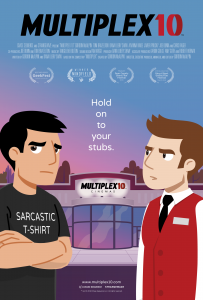 Multiplex 10 is here!
Although Multiplex 10 has ended, an animated prequel/reboot called Multiplex 10 was funded through Kickstarter in 2017 and is NOW AVAILABLE for rent or purchase on Vimeo On Demand, Amazon Video, and elsewhere! And an all-new, irregularly-updated Multiplex 10 web series (set after the short film) recently launched on YouTube! Learn more about the web series on the official Multiplex 10 website!
Stay up to date on all things Multiplex, Multiplex 10 and me (a.k.a. Gordon McAlpin) by subscribing to my newsletter!