Notes from the Manager
Well, I hope you've seen Brazil before reading this strip. If you haven't, go. Now.
Zack Snyder's Sucker Punch cribbed a lot from Brazil and upped the action quotient by about a bajillion. Unfortunately, its characters were so devoid of personality and the fantasy sequences so disconnected from the real-world plot that it made it impossible for me to enjoy the action for the brainless eye candy that I'd hoped it would be, at the very least.
The visuals were neat, as Snyder's usually are, but his constantly-turned-up-to-eleven directing style pushes me out of the movie continually. I can't even say I hated the film overall. There's not enough there to hate, really. It was just utterly tedious.
If you saw Sucker Punch this weekend, what'd you think?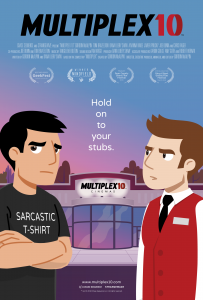 Multiplex 10 is here!
Although Multiplex 10 has ended, an animated prequel/reboot called Multiplex 10 was funded through Kickstarter in 2017 and is NOW AVAILABLE for rent or purchase on Vimeo On Demand, Amazon Video, and elsewhere! And an all-new, irregularly-updated Multiplex 10 web series (set after the short film) recently launched on YouTube! Learn more about the web series on the official Multiplex 10 website!
Stay up to date on all things Multiplex, Multiplex 10 and me (a.k.a. Gordon McAlpin) by subscribing to my newsletter!