Notes from the Manager
Hey, gang. There's an interview with me about Multiplex over at Comixpedia, as part of their movies-themed May "issue." Check it out. And if you're a first-time reader thanks to said interview, welcome!
Anyway, yes, it's true: Mission: Impossible III only got $48 million on its opening weekend (this past weekend), which isn't bad, but it's not great, either, for being the fourth widest release ever. Since the international total kicked that up another $70 million, there's no doubt it will make back its $150 million or so budget, but it's pretty clear that it opened just a bit too early in the year for "summer" and/or the whole "Tom Cruise is crazy" backlash has hurt his drawing power. It's a shame, though, because it really is a great, fun, action-packed movie, with a uniformly great cast. Hopefully some well-deserved positive word-of-mouth will do the film some justice.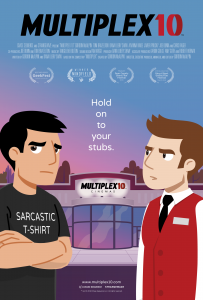 Multiplex 10 is here!
Although Multiplex 10 has ended, an animated prequel/reboot called Multiplex 10 was funded through Kickstarter in 2017 and is NOW AVAILABLE for rent or purchase on Vimeo On Demand, Amazon Video, and elsewhere! And an all-new, irregularly-updated Multiplex 10 web series (set after the short film) recently launched on YouTube! Learn more about the web series on the official Multiplex 10 website!
Stay up to date on all things Multiplex, Multiplex 10 and me (a.k.a. Gordon McAlpin) by subscribing to my newsletter!