Notes from the Manager
In real life, apparently the Multiplex 10 would probably get in a little trouble for this, if the NFL found out.
In case you pay even less attention to American football than I do, the Chicago Bears defied everybody's expectations by making it to the NFC Championships — and they're playing against their long-time rivals, the Green Bay Packers.
Look, my old high school chums used to ask me sports trivia and then bet on whether or not I would know the answer, because I pay absolutely no attention to sports. (They called the game "What Does Gordon Know?") And yet I'm getting kind of excited about this game. That means it's a big deal.
And… one last time: for those of you in the Chicago area, I'll see you tomorrow (Saturday, 1/22) at Chicago Comics, because I'll be appearing with Justin Pierce (Wonderella). Check out the flier for it over at Deleted Scenes for the full details.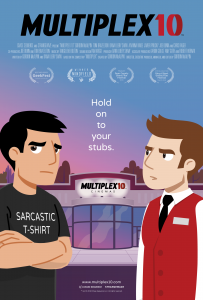 Multiplex 10 is here!
Although Multiplex 10 has ended, an animated prequel/reboot called Multiplex 10 was funded through Kickstarter in 2017 and is NOW AVAILABLE for rent or purchase on Vimeo On Demand, Amazon Video, and elsewhere! And an all-new, irregularly-updated Multiplex 10 web series (set after the short film) recently launched on YouTube! Learn more about the web series on the official Multiplex 10 website!
Stay up to date on all things Multiplex, Multiplex 10 and me (a.k.a. Gordon McAlpin) by subscribing to my newsletter!