Notes from the Manager
In real life, apparently the Multiplex 10 would probably get in a little trouble for this, if the NFL found out.
In case you pay even less attention to American football than I do, the Chicago Bears defied everybody's expectations by making it to the NFC Championships — and they're playing against their long-time rivals, the Green Bay Packers.
Look, my old high school chums used to ask me sports trivia and then bet on whether or not I would know the answer, because I pay absolutely no attention to sports. (They called the game "What Does Gordon Know?") And yet I'm getting kind of excited about this game. That means it's a big deal.
And… one last time: for those of you in the Chicago area, I'll see you tomorrow (Saturday, 1/22) at Chicago Comics, because I'll be appearing with Justin Pierce (Wonderella). Check out the flier for it over at Deleted Scenes for the full details.
Multiplex News & Updates
Bonus comics, drawings, and
other awesome stuff
Saturday, May 27, 2017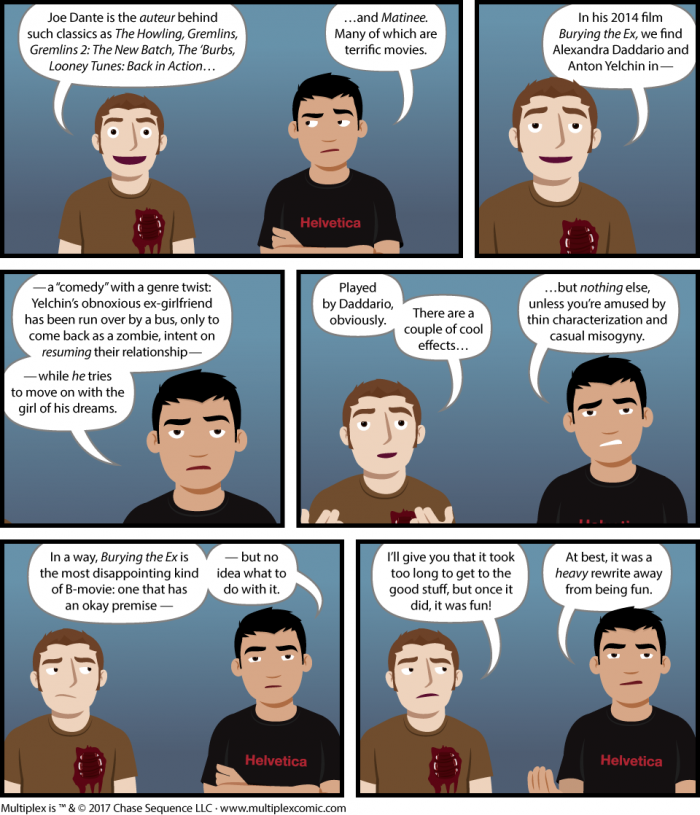 Hello, Multiplex readers!
A quick update on what's going on with everything Multiplex-related:
The storyboards for the Multiplex 10 animated short are DONE. Rough, but done. Pre-production continues for the next few weeks with the construction/editing/etc. of the first rough animatic and design/illustration work.
Although the Kickstarter project has ended, you can still support the project (or my comics work) by becoming a Patreon patron or making a one-time PayPal donation.
Multiplex: The Revenge (Book Three) is being shipped out to Kickstarter backers and will be available for purchase to everyone else on June 14th — as will the Multiplex mini-posters set.
I will be at Wizard World Philadelphia (Friday–Sunday only) with copies of Book Three, so if you're in that neck of the woods, you can get it a little early. :)
Multiplex Movie Reviews like this one, bonus comics from Multiplex: The Best Laid Plans (Book Four), and other stuff are being exclusively posted to Patreon a couple of times a week. Er, except for this one, obviously.
Other Recent Posts