Notes from the Manager
Related Strips: #27: Merry Christmas from Multiplex; #103: Deck the Halls with Déjà Vu; #311: Exactly Like the Holidays
On a mostly unrelated note, The Weinstein Company is "developing" a sequel to Bad Santa. Okay, it's my favorite Christmas movie ever and all, but… really? (Also on their list of "properties" to enfranchise: Rounders and Shakespeare in Love.)
By the way, I did a guest strip for Shortpacked! (To any new readers from Shortpacked!: please start from the beginning. The comic makes way more sense that way. Don't feel intimidated by all the movie chatter; Multiplex is about movies in the same way Shortpacked! is about toys — which is to say, you don't need to be a big nerd about 'em to enjoy the comic. Or, at least, I'm not into toys, but I love Shortpacked!, so I don't think you do.)
I've had a few promised guest strips go up in smoke, so anyone interested in doing one — or writing a script for one — please drop me a line for the rules and regulations! I will be drawing (by hand) the best script that gets sent to me in the VERY near future, sometime later this week. As an added bonus, if I draw your script, I'll send you the original art!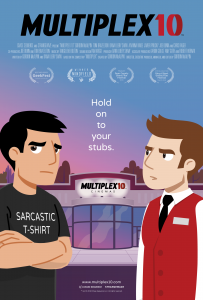 Multiplex 10 is here!
Although Multiplex 10 has ended, an animated prequel/reboot called Multiplex 10 was funded through Kickstarter in 2017 and is NOW AVAILABLE for rent or purchase on Vimeo On Demand, Amazon Video, and elsewhere! And an all-new, irregularly-updated Multiplex 10 web series (set after the short film) recently launched on YouTube! Learn more about the web series on the official Multiplex 10 website!
Stay up to date on all things Multiplex, Multiplex 10 and me (a.k.a. Gordon McAlpin) by subscribing to my newsletter!