Notes from the Manager
Related Posts: #27: Merry Christmas from Multiplex; #103: Deck the Halls with Déjà Vu; #189: This Perfect Christmas Holiday
You'll notice two new buttons in the sidebar:
1) A mini-button for Is It Funny Today?, a new comics ranking website. Multiplex is listed with them as a story strip, so that question is really "Is It Good Today?" but whatever. Please vote there whenever you feel like it, and of course poke around their site, while you're at it; you're likely to find some great comics.
2) The return of the PayPal donation button, just in time for Christmas. ;) Multiplex pulls in a tidy sum from ad revenue, but if you're one of those types who has ad blocking software (kidding), or you just want to help me get closer to putting out the long overdue Multiplex eBook #2 (to say nothing of a print collection), it would be greatly appreciated. (Alternatively to simply making a donation, you can buy the first eBook in the Extras section and get a little something for your money.)
In other news, Trish and I are actively seeking a third co-blogger for Movie Make-out. If you want to get paid a pittance to write about movie news — not reviews, mind you — drop me a line and I'll send you the details. (If you've already sent in samples, don't worry; we're not going to settle on anybody until after the first of the year at the soonest. You're not out of the running yet.)
Stay warm out there, y'all. See you Thursday.
Multiplex News & Updates
Bonus comics, drawings, and
other awesome stuff
Thursday, June 15, 2017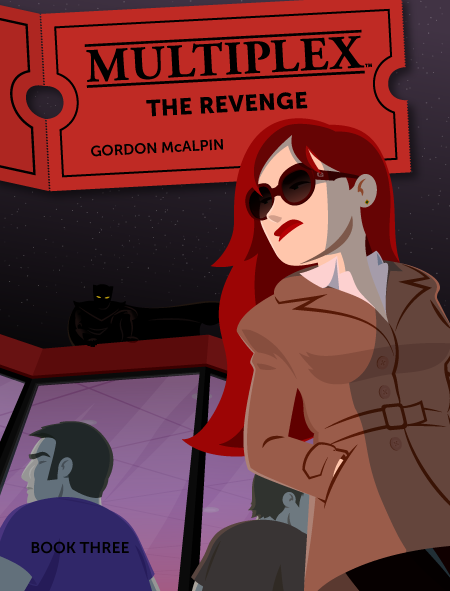 Multiplex: The Revenge (Book Three) is now available in the Multiplex Store! (Only regular/unsigned editions are available at this time; I'll add artist's editions once all of the Kickstarter rewards have been fulfilled.)
Multiplex: The Revenge collects chapters 11–15 of the series (strips #217–338, which ran from March 2008 to March 2009), plus over 30 bonus comics — including an all-new stories sets on opening night of The Dark Knight and Zack Snyder's Watchmen! If you miss Multiplex and would like to see more with these characters, the book collections are for you.
Head on over to the Multiplex Store and check it out today!
Other Recent Posts