Notes from the Manager
Related Strips: #448: Up, Up and Away; #539: What Did You Do?!
There will be five updates this week (some of them guest strips), so keep coming back!
For those of you who haven't heard of Rare Exports — pretty much all of you, I wager — this is Rare Exports:
I caught it at an advance screening last week, thanks to Ain't It Cool News and Gapers Block's Steve Prokopy (a.k.a. Capone). It's a bizarre, Finnish "Christmas tale" that… defies explanation, I guess. You can get the gist of it from the trailer, though. It's a flawed film on many levels, but it's funny and so many kinds of weird that I can't help but recommend it. If it's playing near you (and, for the vast majority of you, it isn't), see it — on Christmas Eve or Christmas, if you can. (Sure enough, it opens in Chicago on Christmas Eve, at the lovely Music Box Theatre.)
UPDATE: A couple of Finnish readers have informed me that there were two Rare Exports short films. They're both on YouTube, of course. I've only seen one of them (which is really funny), but I think the feature is an… er, "origin" story of sorts, so if you are able to see the film and want to go in totally blind, you may not want to watch them first.
Sorry to disappoint those of you hoping for one of the girls to dress up as Quorra or Jem from Tron Legacy; maybe Thursday… Having seen the movie — and unlike half the internet, I enjoyed it despite its many (many) shortcomings. It's pretty, it sounds great, and I thought it was fun.
What did you think — or did you let the negative buzz discourage you from checking it out?
SUPPORT GORDON McALPIN ON PATREON!
Although Multiplex has ended, thanks to readers like you on Patreon, the Multiplex 10 will stay open for business! I'll be posting bonus comics from future print collections, Multiplex Movie Review strips, updates on the upcoming Multiplex 10 animated short, and, of course, other non-Multiplex stuff.
In addition to the warm, soothing feeling of being a patron of the arts, Patreon supporters get access to free Multiplex eBooks, sneak previews of upcoming comics and other behind the scenes peeks, sketch giveaways, and more!
Multiplex News & Updates
Bonus comics, drawings, and
other awesome stuff
Saturday, April 29, 2017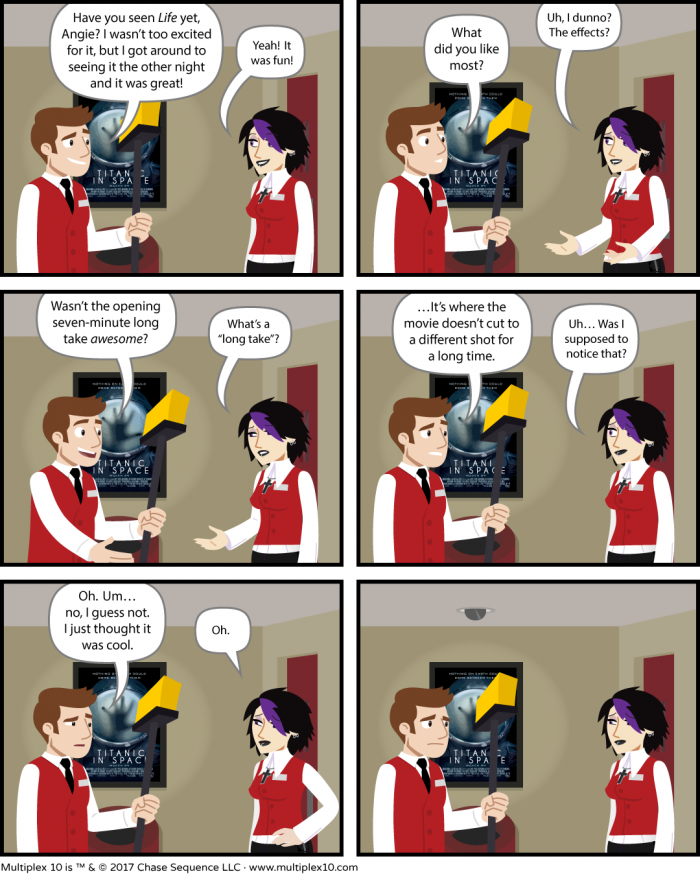 Angie, like Franklin, is another significant character from Multiplex who only gets a brief cameo in the pilot episode. So here she is in a Multiplex 10 comic strip.
At nearly $13,250 (as I write this), we're allllllmost at 90% funding with EIGHT DAYS to go. We need your support to make this pilot happen — and to help distribute it so that we can make more than just one episode! Check out the Multiplex 10 Kickstarter project page today! (Please.)
Also, in case you missed it, there were a couple of new… uh, I'm not sure how to refer to them. "Promo comics," I guess? The Multiplex 10 versions of Melissa & Becky and Franklin introduce themselves and talk about the animated short and one of the Kickstarter milestones, like the Kurt & Jason one I posted here a while ago. I posted those around the social medias and the separate, Multiplex 10-specific site, which some of you may not know about.
Other Recent Posts