Notes from the Manager
Related Strips: #529: I Never Kid, Part Two
Thanks to Peter Talhame for the brainstorming help on this two-parter.
If you don't follow me on Twitter or haven't "Liked" the Facebook page, you might not have seen that I was interviewed by Newsarama's Chris Arrant again, this time about Multiplex: Enjoy Your Show. It was a really solid interview (as always, with Chris), so if you like to hear me talk about comics and shit, check it out. It was conducted a few months ago, though, so keep that in mind; when I mention in it that a long-time character was about the leave the theater, I was referring to the now-departed Whitey.
Speaking of the book, if you wanted to get the book (or anything else) from the Multiplex store in time for Christmas, TODAY is probably your last day to do that. I ship the books (in the US) via Media Mail, which isn't exactly speedy.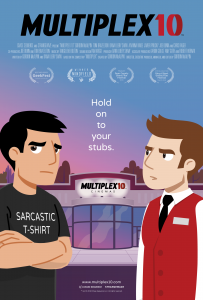 Multiplex 10 is here!
Although Multiplex 10 has ended, an animated prequel/reboot called Multiplex 10 was funded through Kickstarter in 2017 and is NOW AVAILABLE for rent or purchase on Vimeo On Demand, Amazon Video, and elsewhere! And an all-new, irregularly-updated Multiplex 10 web series (set after the short film) recently launched on YouTube! Learn more about the web series on the official Multiplex 10 website!
Stay up to date on all things Multiplex, Multiplex 10 and me (a.k.a. Gordon McAlpin) by subscribing to my newsletter!