Notes from the Manager
Related Strips: #469: Enquiring Minds Want to Know
Sorry for the delay with this week's first update!
If you didn't get the (almost) play by play with my Twitter account, my NYCC experience was a bit… hit and miss.
When I arrived on Friday morning to set up, I immediately noticed two things were wrong: (1) my "table in the Webcomics Pavilion" turned out to be an empty booth in a small, unmarked strip near some other webcomics people, and (2) the box of books I'd had delivered to the show was looking a bit unhealthy.
Somehow, what Reed Exhibitions had described to me as a "table" did not include an actual table, and I was forced to pay extra to actually get one. (I've complained, citing their sales person's e-mail describing it as a "table," not a "totally empty booth" or "dealer space" or something accurate like that. While I've received an apology for the "miscommunication," Reed hasn't yet resolved this to my satisfaction.)
The box of books had clearly been dropped at some point, with over half the books' back covers covered with black dirt of some kind and varying degrees of damage, and the box had been taped back together. While most of the dirt came off with an eraser, about 10 of the books were, in my opinion, unsellable.
Clearly, either UPS or Freeman, the company that handles any shipments and various "services" on site at the show, had dropped the box, and I needed to figure out who did it. A bit of detective work leads me to believe it was probably UPS, but I can't really be sure, and as such, I may not be able to get any compensation for the damaged books.
Ugh.
It wasn't all bad, though: Liz Bailie was an awesome fun tablemate (read Freewheel!), the Michael Bay T-shirts were a hit, the book sold very well, I met a lot of great fans — and (I think) made a few new ones. I also ran out of all the Multiplex cards with the URL late on Sunday, so now I need to order more before the next con I go to — which is actually next weekend. (I'll have to figure something out for that.)
Those of you in the Minneapolis-St. Paul area should drop by and visit me at FallCon 2010 this Saturday, October 16th, at the Minnesota State Fairgrounds in the Progress Center!
Multiplex News & Updates
Bonus comics, drawings, and
other awesome stuff
Saturday, July 1, 2017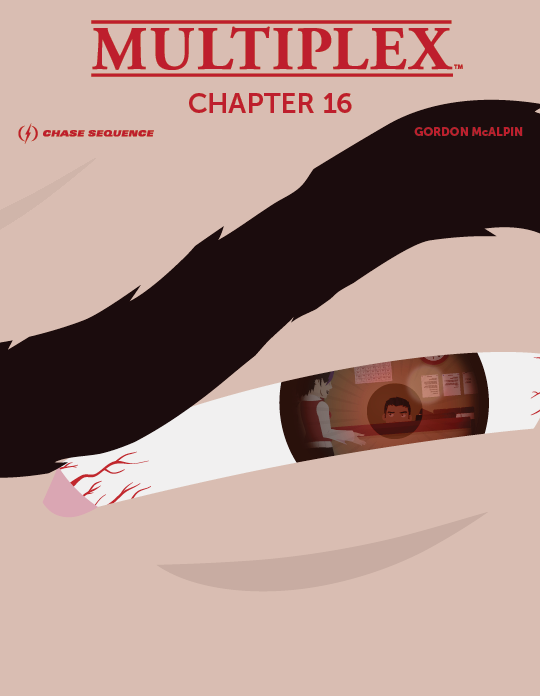 $3+ Patreon supporters get this one for free (until the next eBook is available), but for the rest of youse: The Multiplex: Chapter 16 eBook is now available!
Chapter 16 collects strips #339 –362 from the Multiplex archives, plus four bonus comics and one "extended scene" not found in the archives! Chapter 16 costs $1.99.
Supporting the Multiplex chapter eBooks helps make future Multiplex print collections possible. Thank you for your support!
Other Recent Posts