Notes from the Manager
Related Strips: #506: Hot and Cold; #514: A Flesh Wound
Bleeding Cool ran a brief (three-question) interview with me on Friday, in case you missed it. It's actually the second time Dale Lazarov put me through his All Is Full of Linky Love interview stylings (the first time being when it ran at Talk About Comics a long time ago), but like I told him, if he asked me the same questions in another year, they'd be different answers.
I need just TWO pre-orders for the Michael Bay is the Devil T-shirt before I can print those puppies up. They're $17.99 now, but they'll be going up to $19.99 after the pre-order (I based the original $17.99 pricing on an rough guess, but had to revise the finished price after getting a quote; it's a four-color design, don't forget). If you're a lady or a plus-sized (XXL and up) dude, it's a very good idea to pre-order, because I can't seem to get rid of them in the other shirt designs, so the odds of me ordering those sizes is slim!
EDIT: I just got those last two, so the Michael Bay shirt is GO. Get your orders in now at the pre-order pricing, though. The price will go up to $19.99 on October 4th — and I won't be ordering many extra Men's XXL and up or Ladies sizes.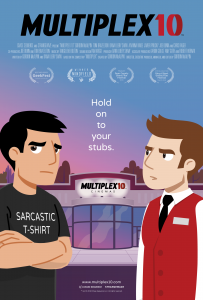 Multiplex 10 is here!
Although Multiplex 10 has ended, an animated prequel/reboot called Multiplex 10 was funded through Kickstarter in 2017 and is NOW AVAILABLE for rent or purchase on Vimeo On Demand, Amazon Video, and elsewhere! And an all-new, irregularly-updated Multiplex 10 web series (set after the short film) recently launched on YouTube! Learn more about the web series on the official Multiplex 10 website!
Stay up to date on all things Multiplex, Multiplex 10 and me (a.k.a. Gordon McAlpin) by subscribing to my newsletter!