Notes from the Manager
I'm not sure this strip truly conveys the boredom and frustration with sitting by listening to people discussing an utterly inane idea that I meant it to, but the "everything in music has been done before" conversation — as obviously stupid as it seems to be to me, at least — is something I hear every few years, usually from young people (as in this strip), and more often than not from people who aren't musicians.
You could have the same conversation about fine art or comics or whatever, and it's essentially rooted in the same inability to comprehend the meaning of the word "infinite" — or, occasionally, an insistence on the sort of overly reductive classifications that lead to silly statements like "there are only 7 basic plots" (or thirty-six, or whatever the number is a particular writer feels like claiming).
To really, effectively convey the boredom and frustration I wanted Becky to be displaying here, I'd probably have needed to do an eight page strip of this circular conversation. But that would be kind of annoying, I think.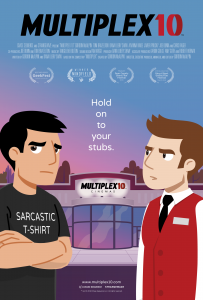 Multiplex 10 is here!
Although Multiplex 10 has ended, an animated prequel/reboot called Multiplex 10 was funded through Kickstarter in 2017 and is NOW AVAILABLE for rent or purchase on Vimeo On Demand, Amazon Video, and elsewhere! And an all-new, irregularly-updated Multiplex 10 web series (set after the short film) recently launched on YouTube! Learn more about the web series on the official Multiplex 10 website!
Stay up to date on all things Multiplex, Multiplex 10 and me (a.k.a. Gordon McAlpin) by subscribing to my newsletter!