Notes from the Manager
I'm not sure this strip truly conveys the boredom and frustration with sitting by listening to people discussing an utterly inane idea that I meant it to, but the "everything in music has been done before" conversation — as obviously stupid as it seems to be to me, at least — is something I hear every few years, usually from young people (as in this strip), and more often than not from people who aren't musicians.
You could have the same conversation about fine art or comics or whatever, and it's essentially rooted in the same inability to comprehend the meaning of the word "infinite" — or, occasionally, an insistence on the sort of overly reductive classifications that lead to silly statements like "there are only 7 basic plots" (or thirty-six, or whatever the number is a particular writer feels like claiming).
To really, effectively convey the boredom and frustration I wanted Becky to be displaying here, I'd probably have needed to do an eight page strip of this circular conversation. But that would be kind of annoying, I think.
Multiplex News & Updates
Bonus comics, drawings, and
other awesome stuff
Saturday, July 1, 2017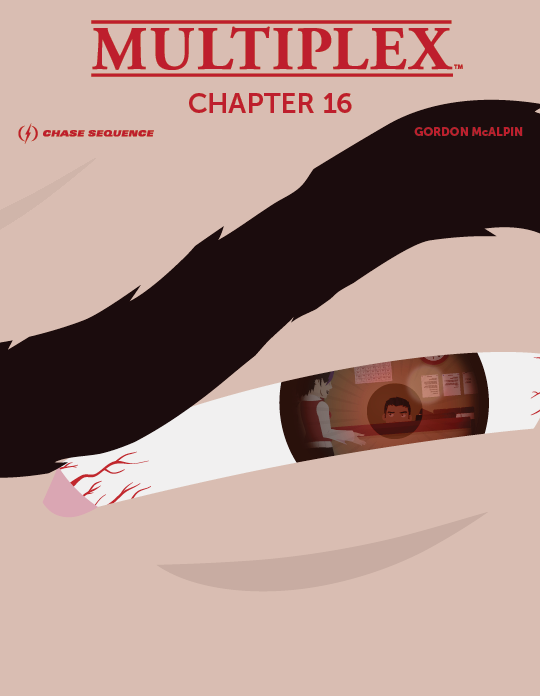 $3+ Patreon supporters get this one for free (until the next eBook is available), but for the rest of youse: The Multiplex: Chapter 16 eBook is now available!
Chapter 16 collects strips #339 –362 from the Multiplex archives, plus four bonus comics and one "extended scene" not found in the archives! Chapter 16 costs $1.99.
Supporting the Multiplex chapter eBooks helps make future Multiplex print collections possible. Thank you for your support!
Other Recent Posts