Notes from the Manager
Related Strips: #493: What Dreams May Come, Part One; #494: What Dreams May Come, Part Two; #495: What Dreams May Come, Part Three; #496: What Dreams May Come, Part Four
So yeah!
I forget if I mentioned there's a new desktop wallpaper available free if you make a donation via PayPal. You can actually get a preview of the art for it by visiting the all-new OpenCart-powered Multplex Store, now with a unified design (well, except for the lack of an ad, because it was causing problems with the SSL certificate).
There isn't any new merchandise in it — YET — but I needed to switch to a store that allows me to accept pre-orders… because obviously I've got this print collection coming out soon. Have you heard about that? :)
As it says on the left sidebar (below the strip) on the front page of the Multiplex site, the book is currently slated for September 22nd on-sale date. (It would ship shortly before then for pre-orders, to hopefully arrive on the 22nd.) I don't know of any reason why I should miss that date, since I will actually be getting the book somewhat earlier than that — but I need time to get review copies out and that sort of thing. Kickstarter Backers will likely get their copies a little earlier than that, too; I'll just need time to get all the packages together after the books arrive. (There are like 250 of them, so, you know… it's a lot of work.)
Also new to the little Upcoming Events sidebar (for those of you who don't pay attention to that, or aren't reading this on the front page of the site) is a few conventions I'll be at in the near future. Let's start with the biggest one, which happens to be the second largest comic book convention in the country:
New York Comic Con (October 8–10)! It looks like Liz Bailie of Freewheel and I will be sharing a table in the Webcomics Pavilion. More details to come on that one.
I'm also planning on going to FallCon in Minneapolis, but that's not definite juuust yet.
And, for those of you in the Indianapolis area, I'll be at… actually, I'm not sure what it's called, but one of ASH Comics & Shows… shows… at the Ramada I-70 on October 24th. It's a tiny con, and I'll probably be stuck in a corner somewhere and seriously lonely, so if you're near there, drop by and keep me company.
I will also be doing a signing/book release party at Third Coast Comics in Chicago, right around the book release (naturally) and a signing at Acme Books & Comics in Peoria, Illinois, in either September or October, so keep your eyes peeled for information about those if you want me to scribble in the book for you, or save yourself shipping, or whatever.
EDIT: I've just confirmed with Terry of Third Coast Comics that the signing/book release party will be on September 18th, from 4pm to 7pm — kind of a limited release before the "wide" release on the 22nd, to put it in movie terms. It will be followed with their monthly Chicago Comic Book Meetup (at 7pm), where I'll be a special guest!
But wait! There's more!
Although Multiplex has ended, thanks to readers like you on Patreon, the Multiplex 10 will stay open for business! I'll be posting bonus comics from future print collections, Multiplex Movie Review strips, updates on the upcoming Multiplex 10 animated short, and, of course, other non-Multiplex stuff.
In addition to the warm, soothing feeling of being a patron of the arts, Patreon supporters get access to free Multiplex eBooks, sneak previews of upcoming comics and other behind the scenes peeks, sketch giveaways, and more!
Deleted Scenes Blog
Bonus comics, drawings,
movie trailers and more
Sunday, April 23, 2017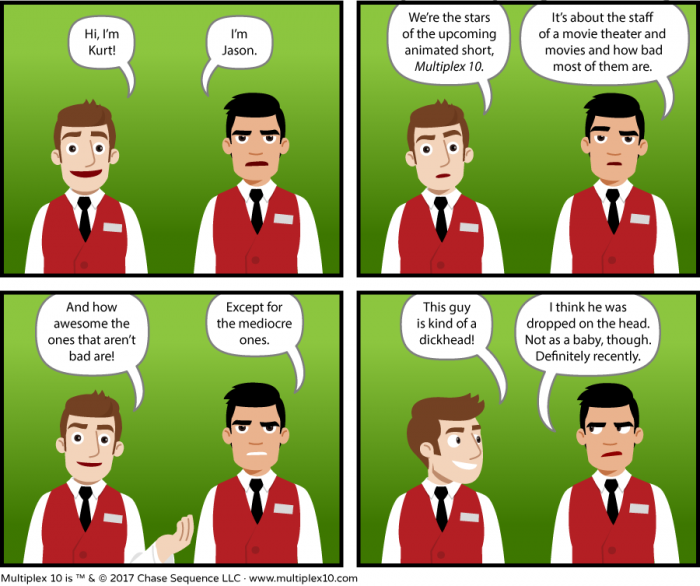 Hello! The Multiplex 10 Kickstarter project ends in just over 14 days. As of this writing, we are a little north of $12,000, so just over 80% of our base goal. Judging from my last two Kickstarters, we're doing very well. The final week should pick up considerably over this past week.
BUT don't forget that we still have a milestone goal of Jason reviewing every Harry Potter movie if we make that $15,000 baseline goal on/before Wednesday, April 26th, though! (Plus Fantastic Beasts if we make it on/before Monday, April 24th. But that seems kind of unlikely at this point.) I thought that was a fun premise… but it's up to the Gods of Kickstarter now.
I also officially added our first (and, at this point, only) STRETCH GOAL. At $20,000, we'll be able to do a few extra things:
Smoother, 4K animation
5.1 Surround Sound mix (courtesy sound designer Ian Vargo)
AND… a theatrical premiere at the Somerville Theatre here in Somerville, MA. (All backers at the Special Thanks level and up will get free admission… and, of course, transportation is not provided.)
Thanks so much for all your support. I'm exciting at how the Kickstarter project is coming together, and I can't wait to get started on the animated short. (Full time, I mean. I'm already working on it!)
Pledge your support today! If you haven't already!
Other Recent Posts