Notes from the Manager
Related Strips: #493: What Dreams May Come, Part One; #494: What Dreams May Come, Part Two
Three this week (and all by me, not guest strips). See you WEDNESDAY.
I gotta ask: did anybody know what movie the first panel is referencing? Go tell me in the forum. ;)
EDIT: OH! I forgot to mention that there's a new Star Wars-inspired desktop picture up as a donation incentive, featuring the art from the cover/chapter illustration for Multiplex: Enjoy Your Show's prequel story. The old one (with Melissa in her Slave Leia outfit from Book 1) is now on the Extras page.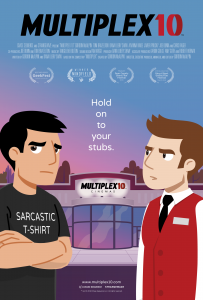 Multiplex 10 is here!
Although Multiplex 10 has ended, an animated prequel/reboot called Multiplex 10 was funded through Kickstarter in 2017 and is NOW AVAILABLE for rent or purchase on Vimeo On Demand, Amazon Video, and elsewhere! And an all-new, irregularly-updated Multiplex 10 web series (set after the short film) recently launched on YouTube! Learn more about the web series on the official Multiplex 10 website!
Stay up to date on all things Multiplex, Multiplex 10 and me (a.k.a. Gordon McAlpin) by subscribing to my newsletter!