Notes from the Manager
Related Strips: #384: Jargon Hunting
"Max" is actually Maximiliano Cárdenas III — and, no, I didn't make up that name. Max is actually one of the Kickstarter backers, who had arranged for a unique pledge incentive, namely becoming the model for a recurring character in the regular strip. (That mostly means this character was named after him and designed to look like him; otherwise, the character in not based on the real Max in any way. I have the broad strokes of the series planned waaaay out in advance, and what he asked for fit with a character I'd already planned to introduce but hadn't yet designed or named… although I'm sure it doesn't always look like it.)
Since he was a Kickstarter backer, as well, he'll appear in the Multiplex: Book 1 prequel story, where we get a brief glimpse of him as a Multiplex 10 employee, albeit in a costume for the Revenge of the Sith premiere.
With this and Thursday's strip, we're finishing up Chapter 21, and Chapter 22 will start next week. That means we're about 1/5 of the way through Book 5.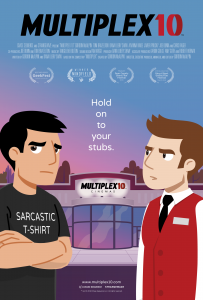 Multiplex 10 is here!
Although Multiplex 10 has ended, an animated prequel/reboot called Multiplex 10 was funded through Kickstarter in 2017 and is NOW AVAILABLE for rent or purchase on Vimeo On Demand, Amazon Video, and elsewhere! And an all-new, irregularly-updated Multiplex 10 web series (set after the short film) recently launched on YouTube! Learn more about the web series on the official Multiplex 10 website!
Stay up to date on all things Multiplex, Multiplex 10 and me (a.k.a. Gordon McAlpin) by subscribing to my newsletter!