Notes from the Manager
Related Strips: #384: Jargon Hunting
"Max" is actually Maximiliano Cárdenas III — and, no, I didn't make up that name. Max is actually one of the Kickstarter backers, who had arranged for a unique pledge incentive, namely becoming the model for a recurring character in the regular strip. (That mostly means this character was named after him and designed to look like him; otherwise, the character in not based on the real Max in any way. I have the broad strokes of the series planned waaaay out in advance, and what he asked for fit with a character I'd already planned to introduce but hadn't yet designed or named… although I'm sure it doesn't always look like it.)
Since he was a Kickstarter backer, as well, he'll appear in the Multiplex: Book 1 prequel story, where we get a brief glimpse of him as a Multiplex 10 employee, albeit in a costume for the Revenge of the Sith premiere.
With this and Thursday's strip, we're finishing up Chapter 21, and Chapter 22 will start next week. That means we're about 1/5 of the way through Book 5.
Multiplex News & Updates
Bonus comics, drawings, and
other awesome stuff
Thursday, June 15, 2017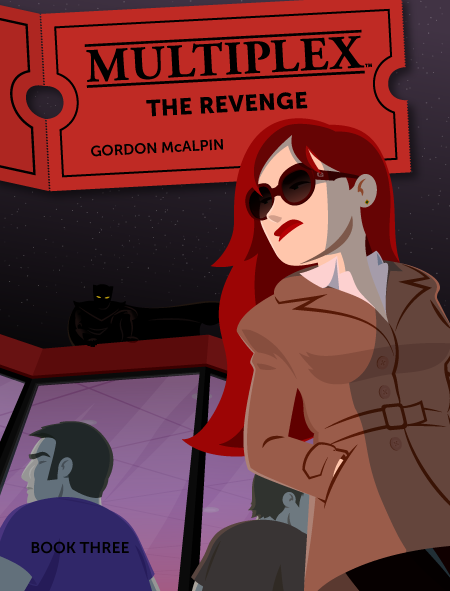 Multiplex: The Revenge (Book Three) is now available in the Multiplex Store! (Only regular/unsigned editions are available at this time; I'll add artist's editions once all of the Kickstarter rewards have been fulfilled.)
Multiplex: The Revenge collects chapters 11–15 of the series (strips #217–338, which ran from March 2008 to March 2009), plus over 30 bonus comics — including an all-new stories sets on opening night of The Dark Knight and Zack Snyder's Watchmen! If you miss Multiplex and would like to see more with these characters, the book collections are for you.
Head on over to the Multiplex Store and check it out today!
Other Recent Posts