Notes from the Manager
Related Strips: #468: It's a Miracle; #471: Scenephile, Part One; #472: Scenephile, Part Two; #476: Astrid…; #482: The Second Time Around, Part One
I have to give a bit of credit to a guy I don't know for Kurt's description of John Powell's How to Train Your Dragon soundtrack as "Titanic and Braveheart having a baby." A friend of reader Kyle Theaker's apparently described the track "Romantic Flight" from that soundtrack as being as if "Titanic and Lord of the Rings had a baby in heaven," which somehow made sense to me.
The Scottish accents in the Dragon score called Howard Shore's Braveheart soundtrack to my mind a little more, though. Unsurprisingly, I own the Braveheart soundtrack, and listened to it constantly in college. I'm a fairly big movie-music buff, though, so I own a lot of soundtracks, even for movies I've never seen. John Powell's score for P.S. I Love You is gorgeous, for instance, but the movie looks like an abomination.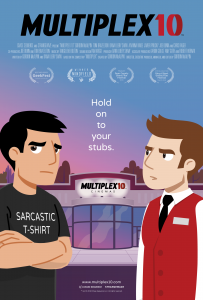 Multiplex 10 is here!
Although Multiplex 10 has ended, an animated prequel/reboot called Multiplex 10 was funded through Kickstarter in 2017 and is NOW AVAILABLE for rent or purchase on Vimeo On Demand, Amazon Video, and elsewhere! And an all-new, irregularly-updated Multiplex 10 web series (set after the short film) recently launched on YouTube! Learn more about the web series on the official Multiplex 10 website!
Stay up to date on all things Multiplex, Multiplex 10 and me (a.k.a. Gordon McAlpin) by subscribing to my newsletter!