Notes from the Manager
Aaaand, that's the end of this arc, more or less. Obviously, things will be followed through with, because we've got a whole lot of comics left in Book 5. :)
I've added a few new prints to the selections, including #100 panel 7 (the Texas Chainsaw Massacre panel) and #355 panel 7 (the popular panel of the girls in their Star Trek uniforms) and large prints of the three classic movie theaters that Jason and Devi have visited in the past. I'm sure the movie theater print will only appeal to a handful of people, but… whatevs. I'm proud of those drawerings.
As always, if there are other panels or strips that you'd like to see prints of, just let me know!
UPDATE: By the way, in case you don't remember Chewie not getting a medal, here's the clip:
And now we know what Chewie's saying just before the credits roll: "Where's my fuckin' medal?!"
Multiplex News & Updates
Bonus comics, drawings, and
other awesome stuff
Thursday, June 15, 2017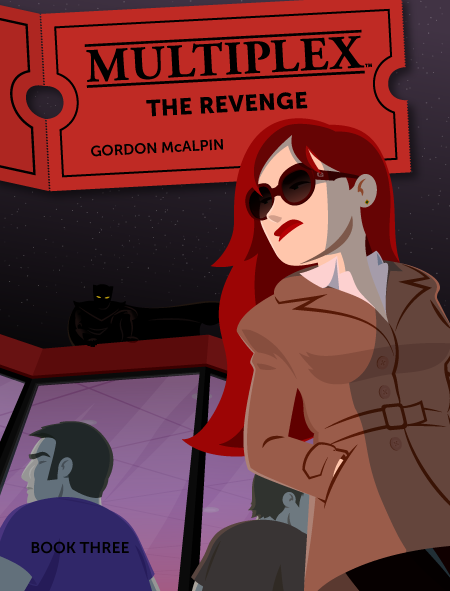 Multiplex: The Revenge (Book Three) is now available in the Multiplex Store! (Only regular/unsigned editions are available at this time; I'll add artist's editions once all of the Kickstarter rewards have been fulfilled.)
Multiplex: The Revenge collects chapters 11–15 of the series (strips #217–338, which ran from March 2008 to March 2009), plus over 30 bonus comics — including an all-new stories sets on opening night of The Dark Knight and Zack Snyder's Watchmen! If you miss Multiplex and would like to see more with these characters, the book collections are for you.
Head on over to the Multiplex Store and check it out today!
Other Recent Posts