Notes from the Manager
Related Strips: #376: Hiding in Plain Sight; #377: History Lesson
The movie they're watching is, of course, (500) Days of Summer (as noted in #378). It's a really fun film — perhaps just shy of being a great film — but I enjoyed it more… on almost an intellectual level than an emotional level.
I feel like it's being sold as a romantic comedy (despite a narrator saying "This is not a love story" in both the trailer and the film), and I don't know how accurate that is. Summer is Joseph Gordon-Levitt's film, without a doubt. While I am utterly in love with Zooey Deschanel (as I've mentioned several times in the past, I'm sure), Summer Finn is more of an idea of a perfect girl than a well-rounded character. This is not, at least in my opinion, a flaw with the film; it's sort of the central conceit: that the "perfect girl" doesn't exist. I love this movie for that — but it does make it something other than a romantic comedy, I think.
In the film, JGL's character Tom is a failed architect of sorts. He takes Summer on sort of a walking tour of downtown LA early in their relationship, but rather than point out modern buildings (booooring) he pointed out some of the older, ornate skyscrapers that often get forgotten about when people think of Los Angeles. (You can see a few photos of the gorgeous Fine Arts Building mentioned in panel 2 at Public Art in LA.com.)
Summer doesn't dwell on the architecture stuff too terribly long or anything, but rather than just mentioning that Tom wants to be an architect and casually tossing off the most famous architects' names the screenwriter could think of ("Oh yeah, I used to want to be an architect, Frank Lloyd Wright, Mies van der Rohe, blah blah"), they actually talk about the buildings a little bit. Shocking.
I might be talking up this aspect of the film more than I ought to, because it's really not a huge part of the movie, but I adore (500) Days of Summer for that little touch— and not just because it played so beautifully into the storyline I'd already started.
Here's the film's trailer (from which the movie still was taken):
The website Devi mentions — Cinema Treasures — is one of my favorite websites on the internet. The database lets me easily track down and read about every single movie theater that has ever existed, and its wonderfully passionate users often link to photos they've taken or found of the buildings. (They also have an absolutely gorgeous coffee table book.) You can read a little about the Million Dollar Theater mentioned in this strip and glimpsed briefly in (500) Days of Summer at Cinema Treasures or check out some photos of it via Google Images.
UPDATE: Oh, and I almost forgot. There are two new, long overdue reader cameos. One is hempy (a.k.a. Paul Hempseed, who has the coolest name ever) with the red hair towards the back in panel 2, and the other is... umm… I forget at the moment. The Asian guy next to Paul. I'll edit this bit later. Psyrick! That's who!
But wait! There's more!
Although Multiplex has ended, thanks to readers like you on Patreon, the Multiplex 10 will stay open for business! I'll be posting bonus comics from future print collections, Multiplex Movie Review strips, updates on the upcoming Multiplex 10 animated short, and, of course, other non-Multiplex stuff.
In addition to the warm, soothing feeling of being a patron of the arts, Patreon supporters get access to free Multiplex eBooks, sneak previews of upcoming comics and other behind the scenes peeks, sketch giveaways, and more!
Deleted Scenes Blog
Bonus comics, drawings,
movie trailers and more
Sunday, April 23, 2017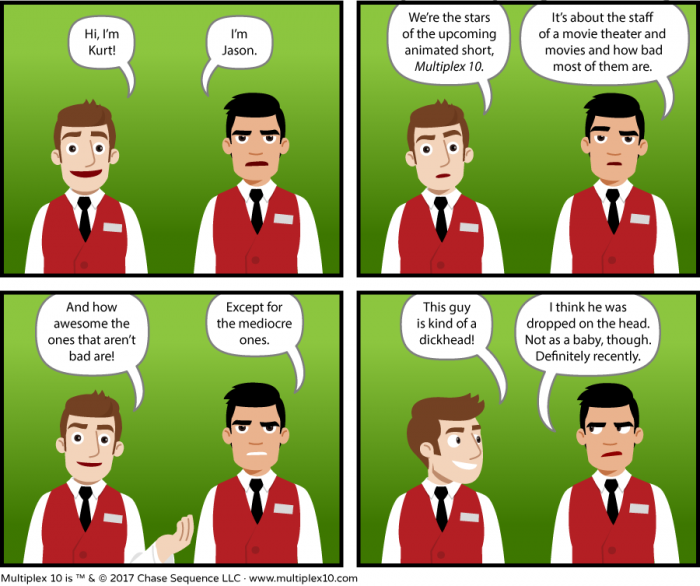 Hello! The Multiplex 10 Kickstarter project ends in just over 14 days. As of this writing, we are a little north of $12,000, so just over 80% of our base goal. Judging from my last two Kickstarters, we're doing very well. The final week should pick up considerably over this past week.
BUT don't forget that we still have a milestone goal of Jason reviewing every Harry Potter movie if we make that $15,000 baseline goal on/before Wednesday, April 26th, though! (Plus Fantastic Beasts if we make it on/before Monday, April 24th. But that seems kind of unlikely at this point.) I thought that was a fun premise… but it's up to the Gods of Kickstarter now.
I also officially added our first (and, at this point, only) STRETCH GOAL. At $20,000, we'll be able to do a few extra things:
Smoother, 4K animation
5.1 Surround Sound mix (courtesy sound designer Ian Vargo)
AND… a theatrical premiere at the Somerville Theatre here in Somerville, MA. (All backers at the Special Thanks level and up will get free admission… and, of course, transportation is not provided.)
Thanks so much for all your support. I'm exciting at how the Kickstarter project is coming together, and I can't wait to get started on the animated short. (Full time, I mean. I'm already working on it!)
Pledge your support today! If you haven't already!
Other Recent Posts