Notes from the Manager
Related Strips: #363: Call to Action; #364: Suck It Up, Suck It Down; #365: You Call That Weird?
Special Wednesday bonus update! See you Friday, when Jason and Devi talking about their feeeeeelings, or something.
Speaking of assistants, I recently tweeted (on my Twitter, y'know) about wanting an assistant for the strip, and while I've found one or two interesting and qualified candidates (despite the meager compensation), I wanted to put out a slightly broader notice about it.
If you're young, hungry, love Multiplex and have some decent skillz with Adobe Illustrator CS4 (and your own computer with it on it), check out this thread in the forum for more details and feel free to sign in and ask questions about it there.
UPDATE: Or how about today, instead? Vote at TopWebComics to read #367 early.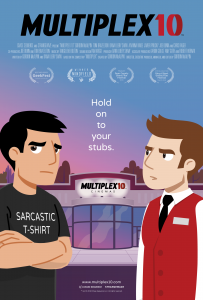 Multiplex 10 is here!
Although Multiplex 10 has ended, an animated prequel/reboot called Multiplex 10 was funded through Kickstarter in 2017 and is NOW AVAILABLE for rent or purchase on Vimeo On Demand, Amazon Video, and elsewhere! And an all-new, irregularly-updated Multiplex 10 web series (set after the short film) recently launched on YouTube! Learn more about the web series on the official Multiplex 10 website!
Stay up to date on all things Multiplex, Multiplex 10 and me (a.k.a. Gordon McAlpin) by subscribing to my newsletter!