Notes from the Manager
Related Strips: #363: Call to Action
I did a little research for this strip by seeing Ghajini at the Big Cinemas Golf Glen. The staff was friendly and professional, and the theater itself is beautiful (having been freshly remodeled from its previous incarnations). They've still got a few kinks to work out with the presentation, but hopefully they'll get it all worked out soon.
The movie itself was surprisingly enjoyable for something so completely unoriginal. The film really is exactly as Jason described it: a terrible Memento rip-off smooshed together with a cheeseball romantic comedy, and then a few music videos that have practically nothing to do with anything cut in every half hour or so. And it's three and a half hours long.
There's more than Memento, even. The opening credits are pretty much an imitation of Fight Club, and a scene where the sweet, romantic lead briskly walks an elderly gentleman down the street while describing the goings-on around them is flat-out plagiarized from Amélie.
But as Devi points out, the songs are good, there's a goofy sort of charm to the rom-com half of the film, and the leads are hot, so it's not a total waste of time. In fact, it's pretty fun.
(We'll get Jason's final verdict on Monday, I think.)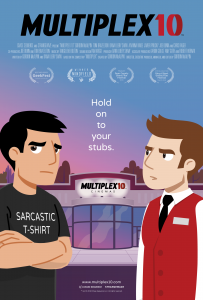 Multiplex 10 is here!
Although Multiplex 10 has ended, an animated prequel/reboot called Multiplex 10 was funded through Kickstarter in 2017 and is NOW AVAILABLE for rent or purchase on Vimeo On Demand, Amazon Video, and elsewhere! And an all-new, irregularly-updated Multiplex 10 web series (set after the short film) recently launched on YouTube! Learn more about the web series on the official Multiplex 10 website!
Stay up to date on all things Multiplex, Multiplex 10 and me (a.k.a. Gordon McAlpin) by subscribing to my newsletter!