Notes from the Manager
Related Strips: #110: The Great Unifier
Okay, now it's officially 2007 in the Multiplex Universe. Sorry it took so long, but hopefully you enjoyed the numerous bonus updates this week.
This is really the end of the New Year's storyline, although there are one or two more in the pipeline that take place shortly after this... but they're really more like codas.
See you Monday!
(By the way, in case you're wondering how the Multiplex gang was counting down to midnight on a clock that has no second hand, if you notice waaaay in the background of panel 3,the TV has some New Year's action on it; you just can't see the TV on the side they're facing. Point being they were following along on the telly, too. Astute readers will also notice that the last panel answers the question Franklin posed in the first panel of #110.)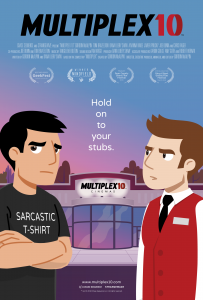 Multiplex 10 is here!
Although Multiplex 10 has ended, an animated prequel/reboot called Multiplex 10 was funded through Kickstarter in 2017 and is NOW AVAILABLE for rent or purchase on Vimeo On Demand, Amazon Video, and elsewhere! And an all-new, irregularly-updated Multiplex 10 web series (set after the short film) recently launched on YouTube! Learn more about the web series on the official Multiplex 10 website!
Stay up to date on all things Multiplex, Multiplex 10 and me (a.k.a. Gordon McAlpin) by subscribing to my newsletter!