Notes from the Manager
Related Strips: #1101: Back to Basics
The title of this strip is a line from The English Patient that I feel like I've quoted here (in Multiplex) before in some capacity or another, because I love the line. It's just about the only thing I remember from the movie, roughly fifteen years after having seen it. It's a kind of throwaway moment in the film, where Katharine Clifton (Kristin Scott Thomas) comments that she's always "wanted to meet the man who could write a long paper with so few adjectives."
Almásy (Ralph Fiennes) replies: "Well, a thing is still a thing no matter what you place in front of it: big car, slow car, chauffeur-driven car…"
A third character interjects: "Broken car."
Almásy shrugs: "Still a car."
So the point — that is to say, the way it ties into this strip — is that a "boring" (in Kurt's opinion) horror movie is still a horror movie.
Multiplex News & Updates
Bonus comics, drawings, and
other awesome stuff
Thursday, June 15, 2017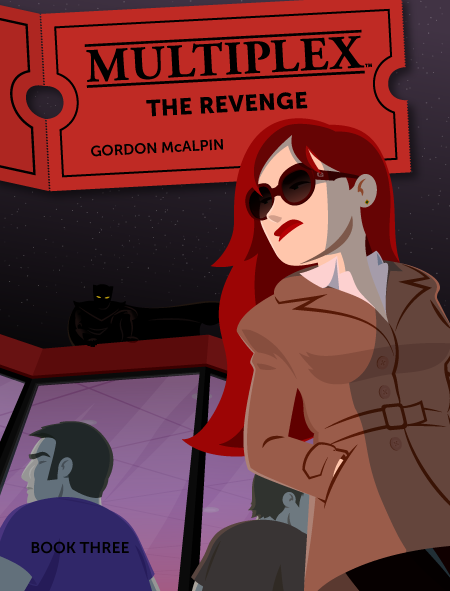 Multiplex: The Revenge (Book Three) is now available in the Multiplex Store! (Only regular/unsigned editions are available at this time; I'll add artist's editions once all of the Kickstarter rewards have been fulfilled.)
Multiplex: The Revenge collects chapters 11–15 of the series (strips #217–338, which ran from March 2008 to March 2009), plus over 30 bonus comics — including an all-new stories sets on opening night of The Dark Knight and Zack Snyder's Watchmen! If you miss Multiplex and would like to see more with these characters, the book collections are for you.
Head on over to the Multiplex Store and check it out today!
Other Recent Posts