Notes from the Manager
Kurt's comment about horror starting with Frankenstein (the novel by Mary Shelley, that is, not the movie) is a bit debateable, given that horror evolved from the Gothic novel. Some people attribute the beginnings of the genre to Horace Walpole's The Castle of Otranto, and others trace it back even farther. Exactly where you point to for the beginning of the genre isn't really important, though. (Worth mentioning: The Witch's sub-title in the movie is "a New-England folktale," which is very apt.)
I happened to really enjoy The Witch, and I am not a huge horror buff, as is already well known by you, my dear readers. Some people will (and have) found it boring, but I think it's pretty nicely drenched with dread throughout—and it doesn't hurt that it's superbly filmed.
If you've seen the movie, a post on Medium by Jason Coffman about the "gatekeepers"s of the horror genre talks a little bit about this subject.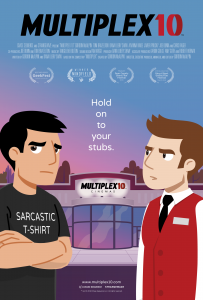 Multiplex 10 is here!
Although Multiplex 10 has ended, an animated prequel/reboot called Multiplex 10 was funded through Kickstarter in 2017 and is NOW AVAILABLE for rent or purchase on Vimeo On Demand, Amazon Video, and elsewhere! And an all-new, irregularly-updated Multiplex 10 web series (set after the short film) recently launched on YouTube! Learn more about the web series on the official Multiplex 10 website!
Stay up to date on all things Multiplex, Multiplex 10 and me (a.k.a. Gordon McAlpin) by subscribing to my newsletter!