Notes from the Manager
Related Strips: #808: The Neutral Zone; #809: Through a Glass Darkly, Part One; #810: Through a Glass Darkly, Part Two; #811: Everyone's a Critic
In case you hadn't heard, yeah, the producers of a Star Trek fan film called Axanar are being sued by CBS and Paramount in order to stop them from producing the flick, which has raised over $1 million via three crowdfunding projects so far. You can read a little more about Axanar Productions' reaction to the suit in their "Captain's Log" blog post from December 30th, as well as in the update to Variety's article about the suit here.
A lot of people are getting really upset about this, because Star Trek has had a long history of turning a blind eye to fan fiction — with professional Trek actors often popping up in the bigger-budgeted ones, but I think the budget here makes a huge difference. At what point does fan work stop being fan work and just become unlicensed work?
The fact is, they can't claim that this is fair use just because they don't; fair use is only decided by a judge or a jury. Similarly, while I believe that Multiplex's use of posters and film stills is fair use because of—at various times—commentary, criticism and parody… only a judge or jury can say that it IS fair use. At this point, there isn't really much legal precedent for works like this, and that's what I find interesting about this lawsuit.
If it does make it to court, this could be either very good or very bad for people who like playing with other peoples' intellectual toys—as well as for people like me who want to comment on media through other media.
But wait! There's more!
Although Multiplex has ended, thanks to readers like you on Patreon, the Multiplex 10 will stay open for business! I'll be posting bonus comics from future print collections, Multiplex Movie Review strips, updates on the upcoming Multiplex 10 animated short, and, of course, other non-Multiplex stuff.
In addition to the warm, soothing feeling of being a patron of the arts, Patreon supporters get access to free Multiplex eBooks, sneak previews of upcoming comics and other behind the scenes peeks, sketch giveaways, and more!
Deleted Scenes Blog
Bonus comics, drawings,
movie trailers and more
Sunday, April 23, 2017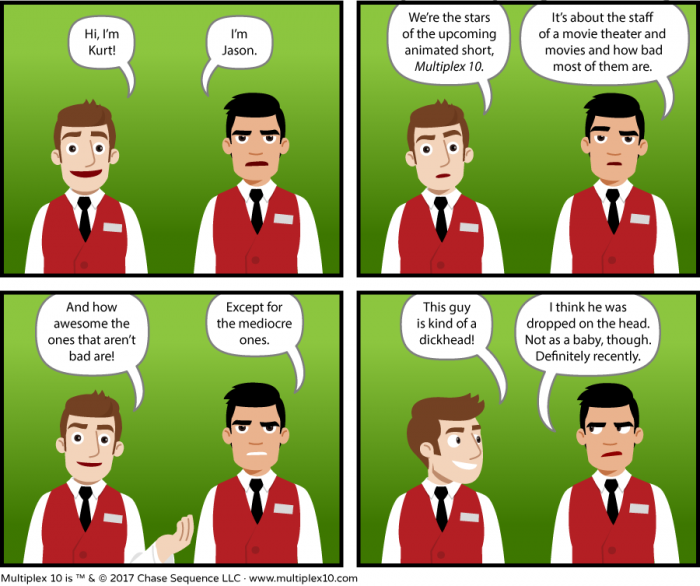 Hello! The Multiplex 10 Kickstarter project ends in just over 14 days. As of this writing, we are a little north of $12,000, so just over 80% of our base goal. Judging from my last two Kickstarters, we're doing very well. The final week should pick up considerably over this past week.
BUT don't forget that we still have a milestone goal of Jason reviewing every Harry Potter movie if we make that $15,000 baseline goal on/before Wednesday, April 26th, though! (Plus Fantastic Beasts if we make it on/before Monday, April 24th. But that seems kind of unlikely at this point.) I thought that was a fun premise… but it's up to the Gods of Kickstarter now.
I also officially added our first (and, at this point, only) STRETCH GOAL. At $20,000, we'll be able to do a few extra things:
Smoother, 4K animation
5.1 Surround Sound mix (courtesy sound designer Ian Vargo)
AND… a theatrical premiere at the Somerville Theatre here in Somerville, MA. (All backers at the Special Thanks level and up will get free admission… and, of course, transportation is not provided.)
Thanks so much for all your support. I'm exciting at how the Kickstarter project is coming together, and I can't wait to get started on the animated short. (Full time, I mean. I'm already working on it!)
Pledge your support today! If you haven't already!
Other Recent Posts