Notes from the Manager
Related Strips: #994: I Haven't Got Time for This Mickey Mouse Bullshit; #995: The Creative Process; #996: The King of Comedy, Part One
While working on this arc, I remembered back in Multiplex's early days (like, when it was less than a year old and still focused mostly on movie jokes) some webcartoonist at some forum criticizing Multiplex for occasionally making jokes that rely on some degree of knowledge about a given film, rather than jokes that "anybody" can understand, saying the oft-repeated line Bill Helms refers to in panel 5: "If you have to explain the joke, then it wasn't funny."

(It's not entirely relevant that when I looked at their own comic strip, their jokes were completely accessible and entirely unfunny, but I feel like mentioning that, anyway.)
That idea has always struck me as insanely stupid: I'm sure there are people who get absolutely every one of Penny Arcade's video game jokes, but I sure don't, yet I don't immediately assume that it's a flaw in their jokes when I don't get them. It's often a "flaw" in my knowledge — in my ability to make the connections needed to understand the joke.
I still vividly remember and love this (very) early Dresden Codak strip, which relies on the reader being at least passingly familiar with Heisenberg's principle. If you aren't, the odds of you finding it funny are slim. If you are, though, it's probably very funny. Or at least I think it is.
Anyway. /end ponderous musing about the nature of humor
SUPPORT GORDON McALPIN ON PATREON!
Although Multiplex has ended, thanks to readers like you on Patreon, the Multiplex 10 will stay open for business! I'll be posting bonus comics from future print collections, Multiplex Movie Review strips, updates on the upcoming Multiplex 10 animated short, and, of course, other non-Multiplex stuff.
In addition to the warm, soothing feeling of being a patron of the arts, Patreon supporters get access to free Multiplex eBooks, sneak previews of upcoming comics and other behind the scenes peeks, sketch giveaways, and more!
Multiplex News & Updates
Bonus comics, drawings, and
other awesome stuff
Wednesday, April 26, 2017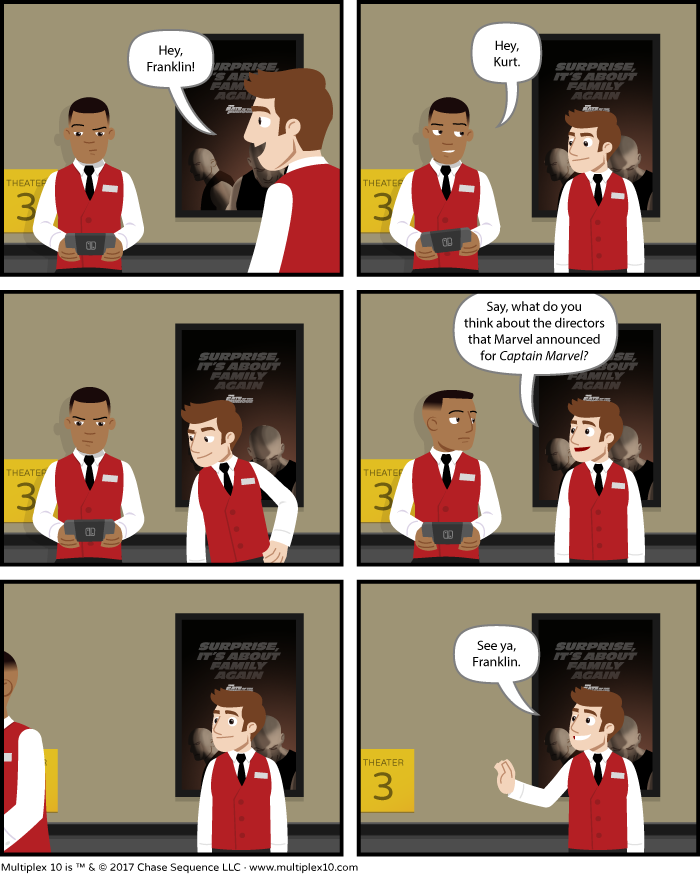 If you've seen the rough animatic of the first scene from the animated short (which I posted both on Patreon and in the Kickstarter updates), you know that the episode begins before Jason has started working at the Multiplex 10.
So here's one difference between the Multiplex 10 "universe" and Multiplex (comic strip) canon; Franklin started at the theater before Jason does. Also, the movie poster frames aren't red anymore, because their vests are red, that was a really stupid decision, and I should have changed it ten years ago.
I feel bad that Franklin only has a small cameo in the first episode, especially since I already know who I want to voice him (hi, Terrence). Sadly, a lot of things that factor big in the comic won't turn up in the first eleven minute episode, because it focuses on Kurt and Jason. But hopefully we'll get to make more.
And even if we can't, I'll still want to make some mini-webisode sort of things and maybe a digital comic (e.g. Comixology Submit style)… and, of course, there's also a tabletop/card game in development. So, like I've said, I'm not done with these characters yet.
Other Recent Posts