Notes from the Manager
Related Strips: #886: The Miner; #890: Old, Familiar Faces
For those of you who don't pay attention to the Deleted Scenes blog (i.e. those of you who read using the Multiplex app for iPhone and iPod touch), thanks to the Patreon backers passing the $600/month Milestone Goal, the Multiplex website is now completely ad-free and reader supported.
That means I can fill up the full width of the site with the comic, and I've made all of Chapter 34 to date 900px wide. That's 25% bigger! Since the iOS app uses the same images, this means the strip images in the app are 25% bigger, too. So if you love the Multiplex app, consider tossing us a few bucks a month via Patreon. (The $99/year iOS Developer Program fee keeps it in the App Store, and it's one of the many costs of doing Multiplex.)
My programmer (Daniel Farrelly) and I are working on more improvements to the website — including a new, responsive layout (that will look more or less like this one, but… bigger) and retina-friendly graphics. Stay tuned for news about that!
Multiplex News & Updates
Bonus comics, drawings, and
other awesome stuff
Saturday, July 1, 2017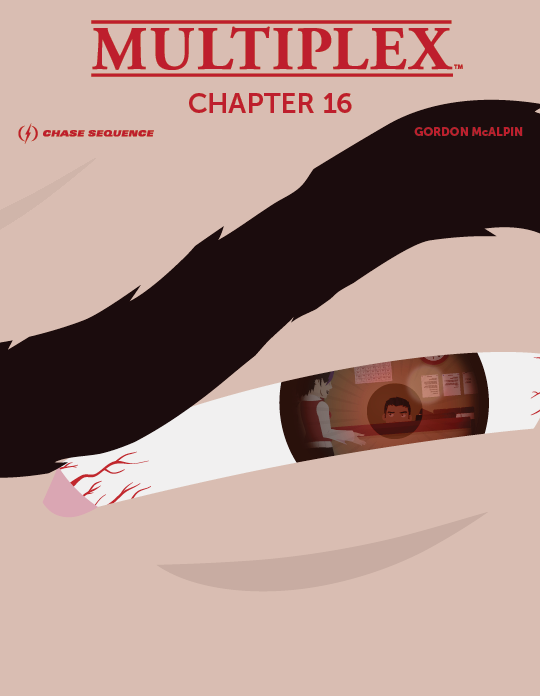 $3+ Patreon supporters get this one for free (until the next eBook is available), but for the rest of youse: The Multiplex: Chapter 16 eBook is now available!
Chapter 16 collects strips #339 –362 from the Multiplex archives, plus four bonus comics and one "extended scene" not found in the archives! Chapter 16 costs $1.99.
Supporting the Multiplex chapter eBooks helps make future Multiplex print collections possible. Thank you for your support!
Other Recent Posts