Notes from the Manager
The film, of course, is Her. (You can read, right?) Here is its first trailer:
In case you guys don't remember Jimmy, he's a refugee from Theater Hopper, the late, lamented movie comic by my good friend Tom Brazelton.
Speaking of Tom and late, lamented movie-related things, this Sunday (January 26) at 9 PM Central, Tom and Joe Dunn of Joe Loves Crappy Movies and myself are joining forces once again for a video reunion of The Triple Feature, our old movie podcast. We'll be discussing a trio of topics: Jack Reacher (the Christopher McQuarrie Tom Cruise flick), the first few episodes of Helix (the new sci-fi series from Battlestar Galactica's Ronald D. Moore), and Slayground (the fourth and latest in Darwyn Cooke's series of comics adaptations of the Parker novels)! Chances are we'll run a bit long, because there's so much to talk about!
You have to be one of my Patreon backers at the $10 level or higher in order to call in live — I've had enough technical difficulties already with the ones so far; I'm new to this stuff! But I'll have more information about where you can watch (posted to the Deleted Scenes blog), and unlike future editions of the Patreon video hangout things I will make this one available for anybody to watch on YouTube after the fact.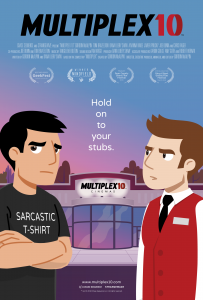 Multiplex 10 is here!
Although Multiplex 10 has ended, an animated prequel/reboot called Multiplex 10 was funded through Kickstarter in 2017 and is NOW AVAILABLE for rent or purchase on Vimeo On Demand, Amazon Video, and elsewhere! And an all-new, irregularly-updated Multiplex 10 web series (set after the short film) recently launched on YouTube! Learn more about the web series on the official Multiplex 10 website!
Stay up to date on all things Multiplex, Multiplex 10 and me (a.k.a. Gordon McAlpin) by subscribing to my newsletter!