Notes from the Manager
Related Strips: #874: The Spirit of the Season
Probably one more strip in this chapter, unless I change my mind about something! Which happens.
As for this strip, I wanted to have Norma slip in a comment about how the customer really only wanted free passes anyway, but there wasn't any room. Speaking from experience, if you complain about something, it's pretty easy to get free passes.
With me, when I complain about something, it's almost always a presentation thing, and I really just want them to fix the problem and/or never let it happen again. Yet almost every multiplex I've been to in Chicago or Minneapolis, I've had to complain about the presentation: either too-dark screens (old bulbs), focus issues, 3D ghosting/crosstalk, or sound problems.
Most recently, a small two-screen theater in Minneapolis had focus issues and a too-dark screen when I saw Frozen. I fired off a (polite) complaint to the management, and along with an apology and an explanation that it was improperly cleaned porthole glass that caused the issues — the first I've heard of that issue. I also got a couple of passes mailed to me that I'm a little nervous about ever using. ("Sorry our movie presentation sucked; here's passes so you can see more movies here!" Hmm…)
Anyway. How about you guys? Have you ever complained about something to management at a theater? How did they respond?
Multiplex News & Updates
Bonus comics, drawings, and
other awesome stuff
Thursday, June 15, 2017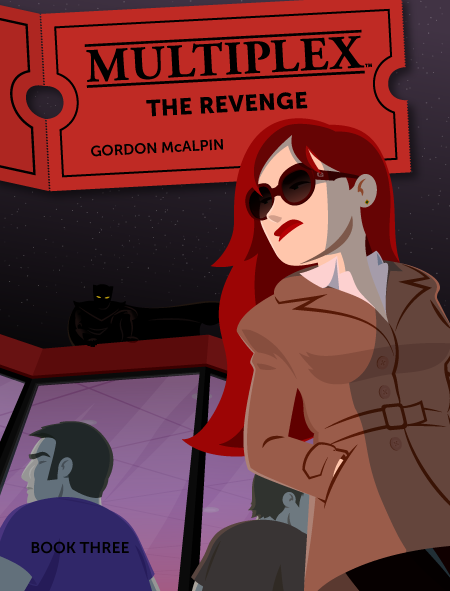 Multiplex: The Revenge (Book Three) is now available in the Multiplex Store! (Only regular/unsigned editions are available at this time; I'll add artist's editions once all of the Kickstarter rewards have been fulfilled.)
Multiplex: The Revenge collects chapters 11–15 of the series (strips #217–338, which ran from March 2008 to March 2009), plus over 30 bonus comics — including an all-new stories sets on opening night of The Dark Knight and Zack Snyder's Watchmen! If you miss Multiplex and would like to see more with these characters, the book collections are for you.
Head on over to the Multiplex Store and check it out today!
Other Recent Posts