Notes from the Manager
Remember when this strip used to be about talking shit about movies all the time? (Kidding. It still is about that — just in a different way, much of the time.)
Anyway, I didn't get to the a strip about The Hobbit last time, because of the zombie arc, so when I was spinning my wheels a bit for the Christmas arc (it's a short one), I decided to change gears and just do a movie-related one-off. Considering Multiplex: There and Back Again (due out in a couple of months, for real!) is named after The Hobbit, I should talk about those movies a little bit, right?
Happy New Year, everybody! Keep away from amateur drinkers. They're dangerous!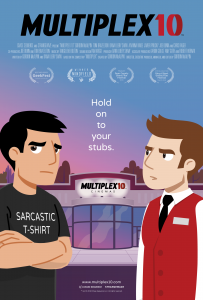 Multiplex 10 is here!
Although Multiplex 10 has ended, an animated prequel/reboot called Multiplex 10 was funded through Kickstarter in 2017 and is NOW AVAILABLE for rent or purchase on Vimeo On Demand, Amazon Video, and elsewhere! And an all-new, irregularly-updated Multiplex 10 web series (set after the short film) recently launched on YouTube! Learn more about the web series on the official Multiplex 10 website!
Stay up to date on all things Multiplex, Multiplex 10 and me (a.k.a. Gordon McAlpin) by subscribing to my newsletter!