Notes from the Manager
Related Strips: #3: Girl Power; #83: You're Gonna Make Me Lonesome When You Go
Bit of an announcement today: Multiplex is now a part of the Boxcar Comics collective, home of Theater Hopper, Beaver & Steve, Rob & Elliot, Joe and Monkey, HOUSD, The Kenmore, 21 Dead Monkeys, Aikida, Hate Song, You'll Have That, and Bigger Than Cheeses. Another little switcheroo also brings Joe Dunn's Joe Loves Crappy Movies (replacing Mitch Clem and Joe's Coffee Achievers) and Mitch Clem's San Antonio Rock City (replacing his own Nothing Nice to Say) under the Boxcar banner. (Taste all the linky goodness!) That's right: JLCM, Theater Hopper, and Multiplex are all in Boxcar Comics now. Boo yah.
Honestly, I think these guys make some of the best comics available on the internet or otherwise, and it's an honor to be a part of the group.
(Oh, and the girl in the Accepted poster is Blake Lively from The Sisterhood of the Traveling Pants, if you didn't know.)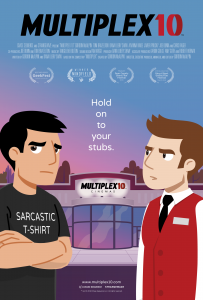 Multiplex 10 is here!
Although Multiplex 10 has ended, an animated prequel/reboot called Multiplex 10 was funded through Kickstarter in 2017 and is NOW AVAILABLE for rent or purchase on Vimeo On Demand, Amazon Video, and elsewhere! And an all-new, irregularly-updated Multiplex 10 web series (set after the short film) recently launched on YouTube! Learn more about the web series on the official Multiplex 10 website!
Stay up to date on all things Multiplex, Multiplex 10 and me (a.k.a. Gordon McAlpin) by subscribing to my newsletter!