Notes from the Manager
Related Strips: #768: Anticlimactic, Part Two; #802: Motivational Speaker; #803: Refraction; #808: The Neutral Zone; #812: Ev'rybody's Gonna Be Happy
Happy Independence Day, my fellow Americans! I hope you're overeating and drinking beer or whatever today. Please don't screw around with fireworks unless you know what you're doing (and it's legal).
Those of you who haven't checked since the last update will have missed a little site-related reshuffle. I'm going to be mostly keeping the Notes from the Manager strip-specific and using the Deleted Scenes blog more for the irrelevant rambling that I sometimes put here (like this). Website visitors will note that the most recent Deleted Scenes post is now reproduced just below this — down there ↓ — on the homepage of the site, and RSS feed readers will want to make sure they have their Multiplex RSS feed address up to date!
See you Monday, everybody!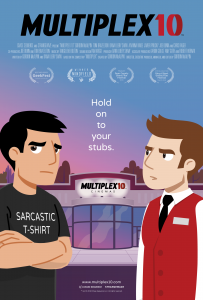 Multiplex 10 is here!
Although Multiplex 10 has ended, an animated prequel/reboot called Multiplex 10 was funded through Kickstarter in 2017 and is NOW AVAILABLE for rent or purchase on Vimeo On Demand, Amazon Video, and elsewhere! And an all-new, irregularly-updated Multiplex 10 web series (set after the short film) recently launched on YouTube! Learn more about the web series on the official Multiplex 10 website!
Stay up to date on all things Multiplex, Multiplex 10 and me (a.k.a. Gordon McAlpin) by subscribing to my newsletter!