Notes from the Manager
Related Strips: #790: The Future Is Ours, Part Five
Hopefully you know who Sid Grauman is, but if you don't, he built LA's Million Dollar Theatre, Grauman's Egyptian Theatre, and Grauman's Chinese Theater (recently renamed the TCL Chinese Theatre for stupid reasons) and received an honorary Oscar in 1949 for "raising the standard for film exhibition." (That was a little more self-congratulatory than most Academy Awards, since he was one of the 36 co-founders of the Academy of Motion Picture Arts and Sciences, as well. Anyway. He was a bigwig in movie theater exhibition. Joke = explained/killed.
An earlier version of that line referred to "Quentin Fucking Tarantino," but I thought more of you would have heard of Sid Grauman than would know that Tarantino owns the New Beverly Cinema. (Also, it would imply that Tarantino is more involved than he probably is.)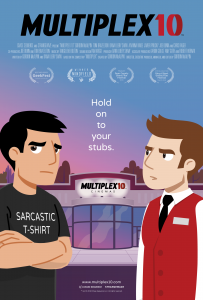 Multiplex 10 is here!
Although Multiplex 10 has ended, an animated prequel/reboot called Multiplex 10 was funded through Kickstarter in 2017 and is NOW AVAILABLE for rent or purchase on Vimeo On Demand, Amazon Video, and elsewhere! And an all-new, irregularly-updated Multiplex 10 web series (set after the short film) recently launched on YouTube! Learn more about the web series on the official Multiplex 10 website!
Stay up to date on all things Multiplex, Multiplex 10 and me (a.k.a. Gordon McAlpin) by subscribing to my newsletter!