Notes from the Manager
There's a term coined by Timothy Leary — "set and setting" — in reference to the context in which people take psychoactive drugs: the idea being that the mindset and the setting in which you do the drugs has an effect on your experience of the drugs' effects. If you're in a good mindset and a good setting, you're more likely to have a good trip. If you're in a bad mindset and/or a bad setting, you're more likely to have a bad trip.
I believe that this idea is true of movies, too, to an extent: with the right set and setting, nearly any movie-watching experience can be more enjoyable (if not enjoyable, exactly). Comedies are more fun when you're sitting in an audience that's enjoying itself. Horror movies are more fun with an audience that's scared out of its wits. Movies that are "so bad they're good" can be fun with a group of people sitting around to rip on them with… for some people, anyway. (Me, I can't get into that shit; I always feel like I could be watching something that was legitimately good instead. Life is too short.) And so on.
My point here isn't just about an audience, though, but of the projection and the theater, too:
As funny as I think that clip is, I think Lynch is being a bit of a curmudgeon here. I wouldn't watch a movie on my smartphone, either, yet I have seen and loved a great many movies on my iPad mini and a good pair of headphones, which is high enough resolution that held at a normal distance from my head the screen is actually bigger than my TV. But yeah. A bigger screen is more immersive, which nearly always makes for a better experience. Even if the movie itself isn't.
I digress. See you Friday!
Multiplex News & Updates
Bonus comics, drawings, and
other awesome stuff
Thursday, June 15, 2017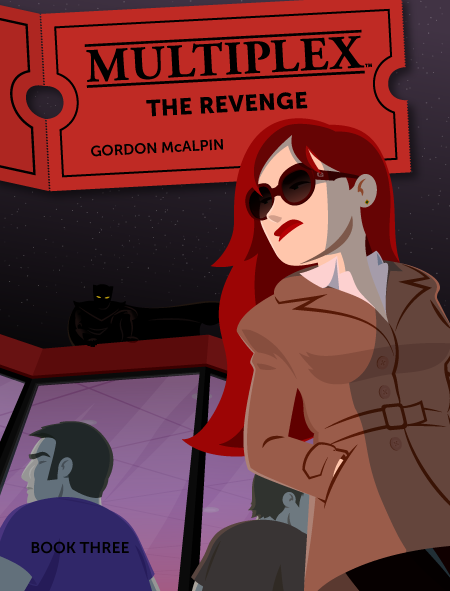 Multiplex: The Revenge (Book Three) is now available in the Multiplex Store! (Only regular/unsigned editions are available at this time; I'll add artist's editions once all of the Kickstarter rewards have been fulfilled.)
Multiplex: The Revenge collects chapters 11–15 of the series (strips #217–338, which ran from March 2008 to March 2009), plus over 30 bonus comics — including an all-new stories sets on opening night of The Dark Knight and Zack Snyder's Watchmen! If you miss Multiplex and would like to see more with these characters, the book collections are for you.
Head on over to the Multiplex Store and check it out today!
Other Recent Posts