Notes from the Manager
Related Strips: #755: Fast Forward
Late, again. :( Grad school, of course.
Some of you will be excited, though, that one of the reason I am swamped is a project for my Game Design class:
I am designing a Multiplex-based card game where you play the manager of a movie theater, competing against the other player(s) for the coveted regional manager position.
The deck has 120 cards, with roughly 90 original illustrations in that. Most of the art will be by me, of course, because it's Multiplex, but about 50 of the cards are "film stills" from various (fake) movies, and I am hoping to farm out some of these films to generous friends and artists and such. They are small pieces — 4.25" x 2.55" (200% printed size), but they do need to be full-color, and they do need to look like film stills (NOT posters, NOT pin-ups) and should not use any existing intellectual property or celebrity likenesses. I would like the artwork in layered Photoshop files, ideally, but since you can use whatever illustration technique you want (er, except for photos), I realize that won't always be possible.
If you are interested in helping contribute artwork to this game, please e-mail me a portfolio (links/websites, please, not attachments) and let me know some genres of film you might be interested in doing. I need the art by Thanksgiving the end of the November — so it's a quick turn-around! Please do not volunteer if you cannot meet OR BEAT this deadline or follow directions, because I won't be able to use your art and you will have wasted your time, and I will feel badly about it, but that's just how it is. (If you're interested in doing more than one, that would be awesome, too, but we'll take it one at a time.)
I cannot use everybody, of course. As a graduate student, there is a minimum level of drawing ability that I need to require for this artwork — it has to be professional looking. And there are only so many adventure and action movies to go around, so you might be good enough, but just not suitable. If I don't contact you with a movie (or some options), please don't take it personally.
Lastly, and this is the shitty part: there is no pay involved at this point, because it is purely a student project at this point — but obviously you keep your copyright. I may end up publishing this game somewhere (very far) down the road, though, and would potentially pay to license the artwork for that. So there's that.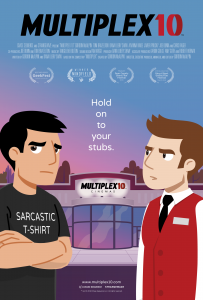 Multiplex 10 is here!
Although Multiplex 10 has ended, an animated prequel/reboot called Multiplex 10 was funded through Kickstarter in 2017 and is NOW AVAILABLE for rent or purchase on Vimeo On Demand, Amazon Video, and elsewhere! And an all-new, irregularly-updated Multiplex 10 web series (set after the short film) recently launched on YouTube! Learn more about the web series on the official Multiplex 10 website!
Stay up to date on all things Multiplex, Multiplex 10 and me (a.k.a. Gordon McAlpin) by subscribing to my newsletter!