Notes from the Manager
The End. (Of the movie, not the movie arc.)
Obviously there was a lot of stuff I glossed over, which I'll get to when I get around to doing the complete, extended, collected version of the movie (maybe next summer?), but you got the idea, I'm sure.
Back to the Vectorverse on Monday. For that very (very) small minority of people who haven't enjoyed the movie arc, the next several strips wrapping up Book 6 should make it pretty clear that this strip never "stopped" being about the characters.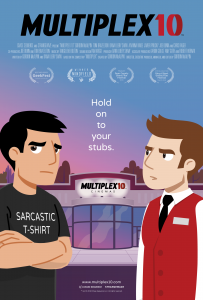 Multiplex 10 is here!
Although Multiplex 10 has ended, an animated prequel/reboot called Multiplex 10 was funded through Kickstarter in 2017 and is NOW AVAILABLE for rent or purchase on Vimeo On Demand, Amazon Video, and elsewhere! And an all-new, irregularly-updated Multiplex 10 web series (set after the short film) recently launched on YouTube! Learn more about the web series on the official Multiplex 10 website!
Stay up to date on all things Multiplex, Multiplex 10 and me (a.k.a. Gordon McAlpin) by subscribing to my newsletter!