Notes from the Manager
Related Strips: #740: Foxy Ladies; #741: Crack a Window; #742: She-Devils; #743: Love at First Sight; #744: Grudge Match; #745: Down Low, Too Slow
Just a reminder that we're not seeing all of the movie. This is one of those bits where I felt like I needed to skip over some parts of a longer sequence (i.e. Jason actually getting bit — sorry, I know some of you would have enjoyed that — and Kurt leading Zombie Melissa down the hall) in order to keep the flow moving for the comic strip. When I do get around to making the movie collection (probably as a 64-page black and white comic), this will certainly be a sequence I stretch out.
For those of you not up on your Shakespeare, Kurt's lines (and the title) are from the end of the balcony scene in Romeo & Juliet. They're actually Juliet's lines, though: "Sweet, so would I. / Yet I should kill thee with much cherishing. / Good night, good night! Parting is such sweet sorrow / That I shall say good night till it be morrow."
See you Monday!
Multiplex News & Updates
Bonus comics, drawings, and
other awesome stuff
Saturday, July 1, 2017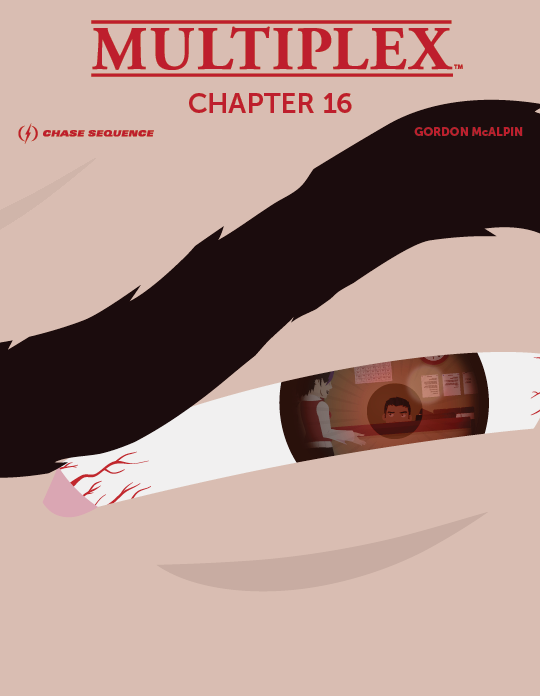 $3+ Patreon supporters get this one for free (until the next eBook is available), but for the rest of youse: The Multiplex: Chapter 16 eBook is now available!
Chapter 16 collects strips #339 –362 from the Multiplex archives, plus four bonus comics and one "extended scene" not found in the archives! Chapter 16 costs $1.99.
Supporting the Multiplex chapter eBooks helps make future Multiplex print collections possible. Thank you for your support!
Other Recent Posts