Notes from the Manager
Related Strips: #729: Strength in Numbers
With the Chapter 9 eBook out now, I'm in the home stretch for the new material in Multiplex: There and Back Again (Book 2), but I am behind schedule. I hadn't counted on the hand-drawn movie arc going quite this long or taking as much time as it has to draw each strip (it's a bit longer than the vector stuff, most of the time).

With grad school approaching fast (in September), there's a chance it'll affect the publication date, unfortunately, and there's a chance that I'll need to shift some things around with the regular strip, as well — like switch to a Monday/Friday update schedule or something — in order to accommodate my class schedule.
I hope to be able to keep up with the regular twice a week schedule, though. Multiplex is (tentatively) mapped out as a nine volume series, and this is Book Six, obviously, so I'll be doing a large chunk of these last three books while attending getting my MFA. It's gonna be rough. Please bear with me in the next couple of months as I figure out how it's all going to work!
Multiplex News & Updates
Bonus comics, drawings, and
other awesome stuff
Saturday, May 27, 2017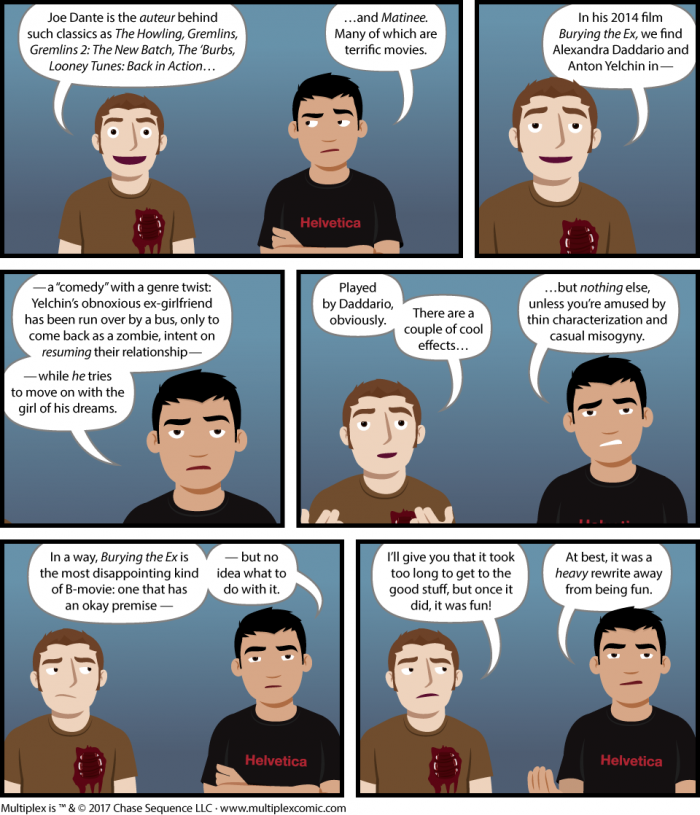 Hello, Multiplex readers!
A quick update on what's going on with everything Multiplex-related:
The storyboards for the Multiplex 10 animated short are DONE. Rough, but done. Pre-production continues for the next few weeks with the construction/editing/etc. of the first rough animatic and design/illustration work.
Although the Kickstarter project has ended, you can still support the project (or my comics work) by becoming a Patreon patron or making a one-time PayPal donation.
Multiplex: The Revenge (Book Three) is being shipped out to Kickstarter backers and will be available for purchase to everyone else on June 14th — as will the Multiplex mini-posters set.
I will be at Wizard World Philadelphia (Friday–Sunday only) with copies of Book Three, so if you're in that neck of the woods, you can get it a little early. :)
Multiplex Movie Reviews like this one, bonus comics from Multiplex: The Best Laid Plans (Book Four), and other stuff are being exclusively posted to Patreon a couple of times a week. Er, except for this one, obviously.
Other Recent Posts