Notes from the Manager
Related Strips: #720: You Jinxed It
To be continued on Thursday, naturally.
A couple of you have asked me what I think about the shooting in Aurora, Colorado, so I'll talk about that briefly, I guess:
I know I made light of the Philadelphia movie theater shooting a few years back, but… well, you know, nobody died there. Nobody walked into that theater thinking, "Hey, I'm going to kill a bunch of people." It seemed a different sort of situation.
I'm not going to bring this up in Multiplex in the immediate future, mostly because I'm in the middle of this zombie story, so there's no room for it, but also because I just don't want to give that little psycho any more ink. It's a terrible tragedy, and I hope the little mother fucker who inflicted it on Aurora, Colorado, gets what's coming to him, and that's all I really have to say about it right now.
Sadly enough, it may end up having to have implications on Multiplex, anyway — particularly related to the costumes and such… so it might have to come up in some fashion. But I'll worry about that when I need to.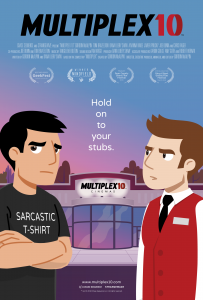 Multiplex 10 is here!
Although Multiplex 10 has ended, an animated prequel/reboot called Multiplex 10 was funded through Kickstarter in 2017 and is NOW AVAILABLE for rent or purchase on Vimeo On Demand, Amazon Video, and elsewhere! And an all-new, irregularly-updated Multiplex 10 web series (set after the short film) recently launched on YouTube! Learn more about the web series on the official Multiplex 10 website!
Stay up to date on all things Multiplex, Multiplex 10 and me (a.k.a. Gordon McAlpin) by subscribing to my newsletter!