Notes from the Manager
In case you're not familiar with some or all of these movies, they all deal with a teacher making some profound impact on some kids.
October Sky is about science teacher (Laura Dern) inspiring some kids to play with rockets, Freedom Writers is basically a remake of Dangerous Minds without Coolio (and with Hilary Swank as Michelle Pfeiffer), and Stand and Deliver is about Commander Adama and the crew of his spaceship leading a small fleet of survivors in search of a fabled refuge known as Earth. Or something like that. I haven't seen it since I was a kid, so my memory of it could be a little fuzzy.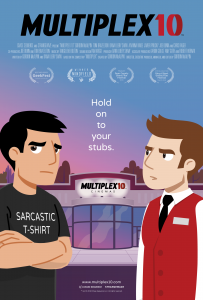 Multiplex 10 is here!
Although Multiplex 10 has ended, an animated prequel/reboot called Multiplex 10 was funded through Kickstarter in 2017 and is NOW AVAILABLE for rent or purchase on Vimeo On Demand, Amazon Video, and elsewhere! And an all-new, irregularly-updated Multiplex 10 web series (set after the short film) recently launched on YouTube! Learn more about the web series on the official Multiplex 10 website!
Stay up to date on all things Multiplex, Multiplex 10 and me (a.k.a. Gordon McAlpin) by subscribing to my newsletter!