Notes from the Manager
Related Strips: #581: I Scream, You Scream…; #587: Teacher's Pet
This IS the last of the Halloween strips, so (sorry) we won't see Angie 2's accomplice unmasked — but there's enough in this and the last few strips to let you figure out who is behind it (it's one of the guys in the background of #586 and 587), and you can be sure that the rest played out more or less the same as in #581.
I'm fighting off a cold my lovely girlfriend gave me and freelancing on-site somewhere for the next couple of weeks, but hopefully I can keep the updates on time… See you Monday!
UPDATE: Since I'm too wrapped up with this arc to do a Thor strip, a Thor/Multiplex mash-up by Mic Magtanong will have to suffice. I love it, so head over to Comics Should Be Good's latest The Line It Is Drawn column to give it (and the other hilarious webcomics/super-hero mash-ups) a look!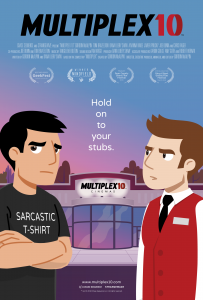 Multiplex 10 is here!
Although Multiplex 10 has ended, an animated prequel/reboot called Multiplex 10 was funded through Kickstarter in 2017 and is NOW AVAILABLE for rent or purchase on Vimeo On Demand, Amazon Video, and elsewhere! And an all-new, irregularly-updated Multiplex 10 web series (set after the short film) recently launched on YouTube! Learn more about the web series on the official Multiplex 10 website!
Stay up to date on all things Multiplex, Multiplex 10 and me (a.k.a. Gordon McAlpin) by subscribing to my newsletter!