Notes from the Manager
Related Strips: #581: I Scream, You Scream…; #587: Teacher's Pet
This IS the last of the Halloween strips, so (sorry) we won't see Angie 2's accomplice unmasked — but there's enough in this and the last few strips to let you figure out who is behind it (it's one of the guys in the background of #586 and 587), and you can be sure that the rest played out more or less the same as in #581.
I'm fighting off a cold my lovely girlfriend gave me and freelancing on-site somewhere for the next couple of weeks, but hopefully I can keep the updates on time… See you Monday!
UPDATE: Since I'm too wrapped up with this arc to do a Thor strip, a Thor/Multiplex mash-up by Mic Magtanong will have to suffice. I love it, so head over to Comics Should Be Good's latest The Line It Is Drawn column to give it (and the other hilarious webcomics/super-hero mash-ups) a look!
Multiplex News & Updates
Bonus comics, drawings, and
other awesome stuff
Saturday, May 27, 2017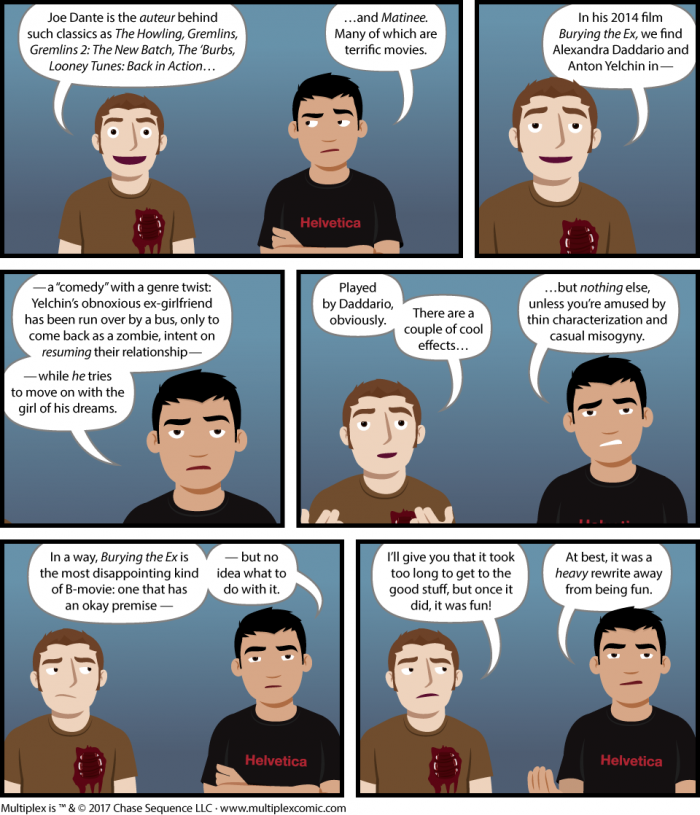 Hello, Multiplex readers!
A quick update on what's going on with everything Multiplex-related:
The storyboards for the Multiplex 10 animated short are DONE. Rough, but done. Pre-production continues for the next few weeks with the construction/editing/etc. of the first rough animatic and design/illustration work.
Although the Kickstarter project has ended, you can still support the project (or my comics work) by becoming a Patreon patron or making a one-time PayPal donation.
Multiplex: The Revenge (Book Three) is being shipped out to Kickstarter backers and will be available for purchase to everyone else on June 14th — as will the Multiplex mini-posters set.
I will be at Wizard World Philadelphia (Friday–Sunday only) with copies of Book Three, so if you're in that neck of the woods, you can get it a little early. :)
Multiplex Movie Reviews like this one, bonus comics from Multiplex: The Best Laid Plans (Book Four), and other stuff are being exclusively posted to Patreon a couple of times a week. Er, except for this one, obviously.
Other Recent Posts