Notes from the Manager
Related Strips: #551: Digging a Hole, Part Two; #558: The Roommate; #578: Have a Word; #579: Don't Even Joke About That
And… scene.
I know the ending here (with _____ walking in on ____ and ____ as one of them puts his/her foot in his/her mouth) is a little canned, but the fact that Jason and Norma just didn't care to even tell her amused me. The way I picture it, Norma leaves and Melissa doesn't know she was ever there, because Jason didn't think she needed the embarrassment.
See you Monday! I've got a couple of cool bits of news to announce in the near future, but you'll have to wait to find out…
As for the weekend, it looks like Rio and Scream 4 are the big new releases. Are any of you excited about either of these? 'Cause I'm not! Scre4m (I can't tell if they're serious about that) could be fun, but does anyone really think it'll be as good as the first one?
But wait! There's more!
Although Multiplex has ended, thanks to readers like you on Patreon, the Multiplex 10 will stay open for business! I'll be posting bonus comics from future print collections, Multiplex Movie Review strips, updates on the upcoming Multiplex 10 animated short, and, of course, other non-Multiplex stuff.
In addition to the warm, soothing feeling of being a patron of the arts, Patreon supporters get access to free Multiplex eBooks, sneak previews of upcoming comics and other behind the scenes peeks, sketch giveaways, and more!
Deleted Scenes Blog
Bonus comics, drawings,
movie trailers and more
Sunday, April 23, 2017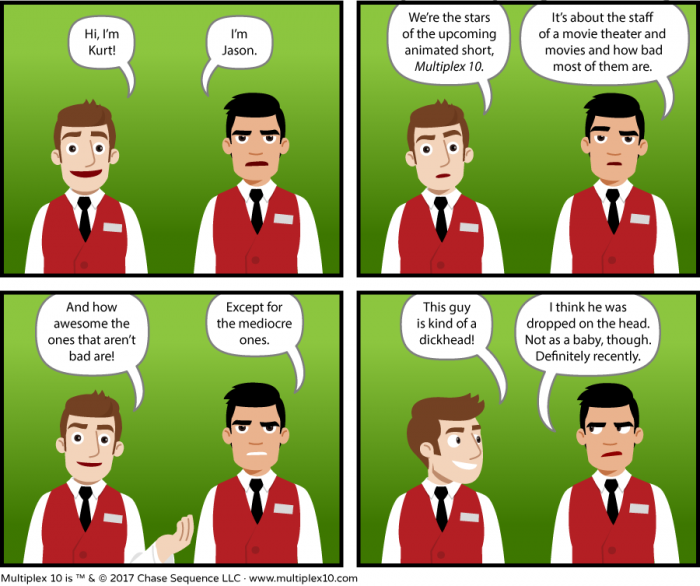 Hello! The Multiplex 10 Kickstarter project ends in just over 14 days. As of this writing, we are a little north of $12,000, so just over 80% of our base goal. Judging from my last two Kickstarters, we're doing very well. The final week should pick up considerably over this past week.
BUT don't forget that we still have a milestone goal of Jason reviewing every Harry Potter movie if we make that $15,000 baseline goal on/before Wednesday, April 26th, though! (Plus Fantastic Beasts if we make it on/before Monday, April 24th. But that seems kind of unlikely at this point.) I thought that was a fun premise… but it's up to the Gods of Kickstarter now.
I also officially added our first (and, at this point, only) STRETCH GOAL. At $20,000, we'll be able to do a few extra things:
Smoother, 4K animation
5.1 Surround Sound mix (courtesy sound designer Ian Vargo)
AND… a theatrical premiere at the Somerville Theatre here in Somerville, MA. (All backers at the Special Thanks level and up will get free admission… and, of course, transportation is not provided.)
Thanks so much for all your support. I'm exciting at how the Kickstarter project is coming together, and I can't wait to get started on the animated short. (Full time, I mean. I'm already working on it!)
Pledge your support today! If you haven't already!
Other Recent Posts