Notes from the Manager
Why is there an establishing shot in this strip? Because I wanted to show the (slightly) remodeled lobby! (If you'd like to get a closer look at it, vote for Multiplex at TopWebComics; there's a new vote incentive.)
Why are there leaves on the trees still? Because I messed up! Let's just pretend this took place a little over a week ago, before it snowed here in Chicago, and then it's not as big of a deal.
Obviously, because this is Multiplex, the movies Jason and Kurt are talking — No Strings Attached and Friends with Benefits — about are both real (and you can watch their trailers via that link).
There's also another movie called Friends with Kids starring Jon Hamm, Kristen Wiig, and Megan Fox, which is about a group of platonic thirty-somethings who decide to make babies (literally) and date other people, and while I don't know what happens next, I bet it gets complicated!
And let's not forget the 2009 indie movie Friends (with Benefits) that like five people saw or the upcoming Friends with Benefits TV series from the creators of (500) Days of Summer.
And you thought two asteroid movies coming out at about the same time was madness.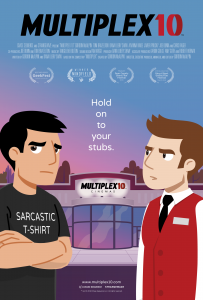 Multiplex 10 is here!
Although Multiplex 10 has ended, an animated prequel/reboot called Multiplex 10 was funded through Kickstarter in 2017 and is NOW AVAILABLE for rent or purchase on Vimeo On Demand, Amazon Video, and elsewhere! And an all-new, irregularly-updated Multiplex 10 web series (set after the short film) recently launched on YouTube! Learn more about the web series on the official Multiplex 10 website!
Stay up to date on all things Multiplex, Multiplex 10 and me (a.k.a. Gordon McAlpin) by subscribing to my newsletter!