Notes from the Manager
Related Strips: #521: Oops, I Did It Again
One thing I heard from people at the cons I've been at recently is a (mild) complaint about my "irregular" update schedule. So rather than post this as two separate strips, I figured I'd just post the whole thing on Thursday, instead. You can pretend the top three tiers are one strip, and the bottom three are another, though. It works the same either way, to me.
Speaking of conventions, as I mentioned on Monday, I am appearing at one last convention for the rest of the year (I think): Indiana natives, please stop by and visit me at the Indianapolis Comic Book & Toy Convention on Sunday, October 24th from 9:30 am to 3:30 pm. It'll be at the Ramada Inn I-70, located at East 6990 East 21st Street, in Indianapolis, Indiana. I'll have the book, some T-shirts, and of course I'll be doing sketches and that sort of thing, as well.
Unless I add something to my calendar soon, it looks like the next con I attend will be Emerald City in early March — and I've just added SPACE to my convention calendar for late March 2011, which means I won't be attending C2E2, despite it being in Chicago. (Crazy, I know!) For more information on any of these cons, click through the links in the Upcoming Events sidebar thingy.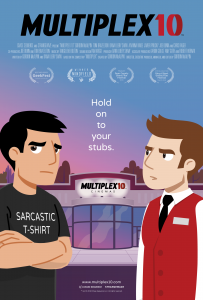 Multiplex 10 is here!
Although Multiplex 10 has ended, an animated prequel/reboot called Multiplex 10 was funded through Kickstarter in 2017 and is NOW AVAILABLE for rent or purchase on Vimeo On Demand, Amazon Video, and elsewhere! And an all-new, irregularly-updated Multiplex 10 web series (set after the short film) recently launched on YouTube! Learn more about the web series on the official Multiplex 10 website!
Stay up to date on all things Multiplex, Multiplex 10 and me (a.k.a. Gordon McAlpin) by subscribing to my newsletter!