Notes from the Manager
Related Strips: #501: You What, Part One; #502: You What, Part Two; #503: You What, Part Three
So it is official now: Small Press United (a division of IPG) will be the exclusive distributor of Multiplex: Enjoy Your Show for the US and Canada — a few cases of which, by the way, just arrived from the printer and look great.
(While SPU also sells to wholesalers in the UK and Australia, as well as other territories, it's too soon to tell if they'll be unloading any on the international market, I'm afraid. I will definitely keep you posted.)
The book should turn up at Amazon and Barnes & Noble.com in the very near future, and in wholesalers' catalogs for book retailers and comics shops in the not-very-near future. I'll keep you posted as to which ones, of course — especially if Diamond (the largest comics distributor in North America) is one of them.
To get your copy sooner rather than later, though, you'll want to pre-order the book from the Multiplex Store. :) Don't forget — the promotional thingy still stands: if I get 250 pre-orders before September 18th, everyone who has pre-ordered gets a free Multiplex bookmark! We're a little over 1/8th the way there, so stop waiting!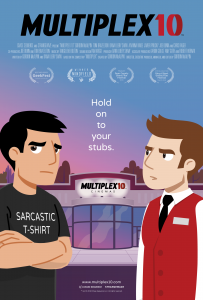 Multiplex 10 is here!
Although Multiplex 10 has ended, an animated prequel/reboot called Multiplex 10 was funded through Kickstarter in 2017 and is NOW AVAILABLE for rent or purchase on Vimeo On Demand, Amazon Video, and elsewhere! And an all-new, irregularly-updated Multiplex 10 web series (set after the short film) recently launched on YouTube! Learn more about the web series on the official Multiplex 10 website!
Stay up to date on all things Multiplex, Multiplex 10 and me (a.k.a. Gordon McAlpin) by subscribing to my newsletter!