Notes from the Manager
For those of your who missed the announcement last week, Multiplex now has its own discussion forums. Join other Multiplex readers talk about the strip, movies, or whatever you like. As a special thank-you to all the movie theater employees who read and support Multiplex, there is a special area in the forum set aside solely for them.
Oh, and… NUMBER 50! Hooray for Multiplex, and thank you for reading these past eight months (or whatever), everybody. Tell a friend about your favorite movie theater employee-themed webcomic today. :)
In honor of the 50th strip, an Extras section has been added to the Multiplex site. It's pretty bare right now, but it has the official Multiplex theme song, a twelve-second bit of fun called "(Mutilate Us)" (used with permission from the indie pop band AM/FM's Mutilate Us album). Check it out, and may it forever be ingrained in your mind when you read Multiplex.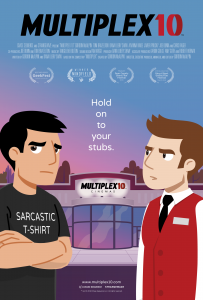 Multiplex 10 is here!
Although Multiplex 10 has ended, an animated prequel/reboot called Multiplex 10 was funded through Kickstarter in 2017 and is NOW AVAILABLE for rent or purchase on Vimeo On Demand, Amazon Video, and elsewhere! And an all-new, irregularly-updated Multiplex 10 web series (set after the short film) recently launched on YouTube! Learn more about the web series on the official Multiplex 10 website!
Stay up to date on all things Multiplex, Multiplex 10 and me (a.k.a. Gordon McAlpin) by subscribing to my newsletter!