Notes from the Manager
Related Strips: #140: The One About Shrek the Third; #268: Old School, Part One
Tomorrow is officially the 5th anniversary of Multiplex, so there will be a few guest strips in celebration of that little milestone!
I know some of you don't like guest strips, but don't worry — I'll still be putting up my regular updates. There will just be a few extra ones by other cartoonists, like T.J. Tague, whose guest strip from Wednesday is now up in the Guest Strips section.
Here's a short Book 1 update for everybody: the proofing stage for Book 1 is winding down (the couple of passes were relatively mistake-free, finally), and I've finally arrived at a universally well-liked cover design, so I just need to put the finishing touches on the illustration and I'll be good to send it to the printer by the end of next week. Then it'll be time for… printer proofs! Joy.
About this strip, it's not really important to mention, but if you wanted to go out and buy an action figure of Toothless from How to Train Your Dragon… you pretty much can't. There are "Night Fury" action figures with a healthy tail, but none actually of Toothless, with the missing fin and Hiccup's saddle & rig. And the moveable wings on the 7" deluxe Night Fury figure seems to have a habit of falling out, if the Amazon reviews are any indication.
I have a hunch that the whole "Night Fury" thing is because they added the whole bit about Toothless's tail late in the game, and the toy manufacturer was forced to just change the name on the packaging or redo the mold. (I don't have any reason to believe this, other than a couple of early stills of the movie featuring Toothless with an unmistakably whole tail.) As a reader in the toy business pointed out to me, it takes 6–8 months to get a toy from the concept to the shelves, so some significant, late story changes could have left the manufacturer without the time to redo the figure.
While that sort of change would be excusable, what's not excusable is not having an Astrid action figure. While I'm reluctant to take guesses as to why (because she's a girl), when two of your three main characters don't even have figures, something's not right.
Hopefully by the time the sequel comes out, someone will put out a more complete action figure line for How to Train Your Dragon, because I totally want some. I just want to actually have Toothless, not a stand-in.
And yes, I feel a bit like David Willis right now.
Also, Mr. Mister was awesome: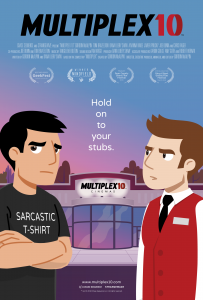 Multiplex 10 is here!
Although Multiplex 10 has ended, an animated prequel/reboot called Multiplex 10 was funded through Kickstarter in 2017 and is NOW AVAILABLE for rent or purchase on Vimeo On Demand, Amazon Video, and elsewhere! And an all-new, irregularly-updated Multiplex 10 web series (set after the short film) recently launched on YouTube! Learn more about the web series on the official Multiplex 10 website!
Stay up to date on all things Multiplex, Multiplex 10 and me (a.k.a. Gordon McAlpin) by subscribing to my newsletter!