Notes from the Manager
It looks like there will be two more updates in this arc, but there will be three updates next week. (One of them's kind of long, so I need a little extra time to finish it.) I want to get next weeks' strips polished off this week, so I can devote all of next week to the prequel comic for Book 1.
Regarding Becky's comment in panel 5, I know somebody will probably jump on me about that, but I'm referring to a 2005 Nature paper that revised the estimate of similarity between human and chimpanzee DNA down from 98% to about 96%. Obviously, "similarity" is, at least to some extent, a subjective thing. A December 2006 paper in PLoS ONE pinned it at about 93% and others say it's even lower. Anyway. They're similar.
By the way, since Monday's is already done, and it's just a four-panel sequence (read: no joke) tying together this and the Wednesday comic, feel free to read it early by voting at TopWebcomics!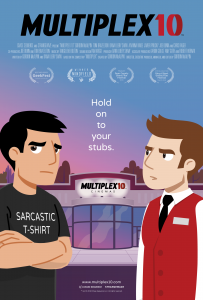 Multiplex 10 is here!
Although Multiplex 10 has ended, an animated prequel/reboot called Multiplex 10 was funded through Kickstarter in 2017 and is NOW AVAILABLE for rent or purchase on Vimeo On Demand, Amazon Video, and elsewhere! And an all-new, irregularly-updated Multiplex 10 web series (set after the short film) recently launched on YouTube! Learn more about the web series on the official Multiplex 10 website!
Stay up to date on all things Multiplex, Multiplex 10 and me (a.k.a. Gordon McAlpin) by subscribing to my newsletter!