Notes from the Manager
Related Strips: #52: Young Love
Welcome, new readers from C2E2! If I didn't get the chance to explain it to you, the humor in Multiplex is largely character-based, not gag-based, so it would be best for you to start from the beginning.
If you aren't familiar at all with the cast of Kick-Ass, you might not know that Chloe Grace Moretz — a.k.a. Hit Girl — is 13. (She was 11 when she filmed Kick-Ass.)
Anyway!
Apparently I come across as grumpy on the internet. That's because I use Twitter to bitch about shit and like to swear. I'm actually a very nice person when you meet me, as those of you who visited me at C2E2 (hopefully) realized. :) Thanks to everybody who came out and chatted with me or bought stuff! You rock.
The con was a blast, Joel Watson (Hijinks Ensue) couldn't have been more fun to share a table with — and as I found out on a Friday night karaoke excursion with a ton of other fellow cartoonists, he is a force to be reckoned with at singing "Mr. Roboto" by Styx. I kid you not. S. Dave Shabet (Dead Winter) also does an awesome James Hetfield impression, as well.
And thanks again to Harrison Pious (My Little World) for bringing me a flask of brandy. You get the Reader of the Year award, Harrison. All you Kickstarter backers collectively got it last year. :)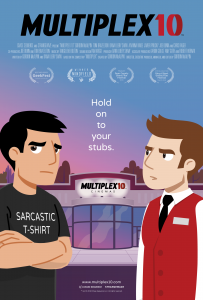 Multiplex 10 is here!
Although Multiplex 10 has ended, an animated prequel/reboot called Multiplex 10 was funded through Kickstarter in 2017 and is NOW AVAILABLE for rent or purchase on Vimeo On Demand, Amazon Video, and elsewhere! And an all-new, irregularly-updated Multiplex 10 web series (set after the short film) recently launched on YouTube! Learn more about the web series on the official Multiplex 10 website!
Stay up to date on all things Multiplex, Multiplex 10 and me (a.k.a. Gordon McAlpin) by subscribing to my newsletter!