Notes from the Manager
Related Strips: #461: Get What You Deserve, Part One
Oookay. So yeah. Sorry about having to split this one in two, but I need to stay on track with Book 1 or may not get done in time for the Windy City Comicon this fall, which is the absolutely latest I want to have it out by.
The Chapter 5 eBook is nearly done and will be out late week, hopefully. C2E2 might get in the way there. But once Chapter 5 is out, I can start on the Star Wars: Revenge of the Sith prequel storyline and all of the reader/Kickstarter backer cameos that will entail!
I've added #338: Who Watches the Watchmen (Movie)? as one of the choices for large prints at the Multiplex Store, by the way! Order one today — or stop by and see me at C2E2 this weekend, if you're near Chicago, because I'll have a few of them with me. I'll be sharing Booth WC-B in the Webcomics Pavillion with Joel Watson (Hijinks Ensue). Keep your eye out for this vertical banner!
UPDATE: By popular demand, a zoomed-in view of the last panel (without dialogue) has been added as a desktop picture, on the Extras page.
Multiplex News & Updates
Bonus comics, drawings, and
other awesome stuff
Saturday, July 1, 2017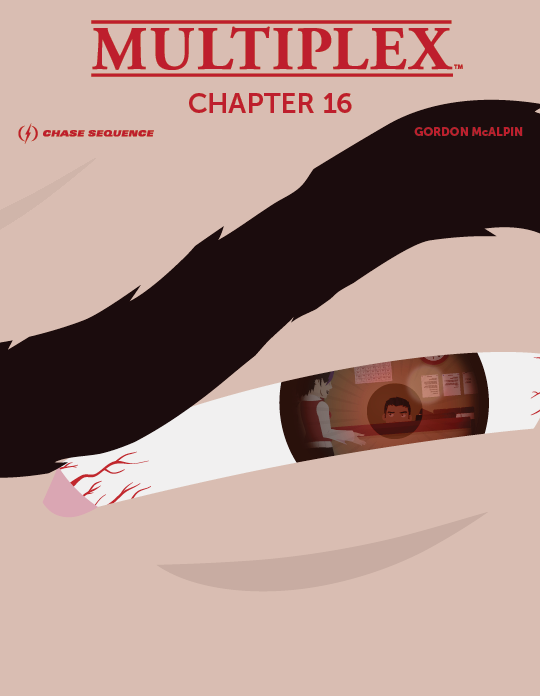 $3+ Patreon supporters get this one for free (until the next eBook is available), but for the rest of youse: The Multiplex: Chapter 16 eBook is now available!
Chapter 16 collects strips #339 –362 from the Multiplex archives, plus four bonus comics and one "extended scene" not found in the archives! Chapter 16 costs $1.99.
Supporting the Multiplex chapter eBooks helps make future Multiplex print collections possible. Thank you for your support!
Other Recent Posts