Notes from the Manager
Related Strips: #461: Get What You Deserve, Part One
Oookay. So yeah. Sorry about having to split this one in two, but I need to stay on track with Book 1 or may not get done in time for the Windy City Comicon this fall, which is the absolutely latest I want to have it out by.
The Chapter 5 eBook is nearly done and will be out late week, hopefully. C2E2 might get in the way there. But once Chapter 5 is out, I can start on the Star Wars: Revenge of the Sith prequel storyline and all of the reader/Kickstarter backer cameos that will entail!
I've added #338: Who Watches the Watchmen (Movie)? as one of the choices for large prints at the Multiplex Store, by the way! Order one today — or stop by and see me at C2E2 this weekend, if you're near Chicago, because I'll have a few of them with me. I'll be sharing Booth WC-B in the Webcomics Pavillion with Joel Watson (Hijinks Ensue). Keep your eye out for this vertical banner!
UPDATE: By popular demand, a zoomed-in view of the last panel (without dialogue) has been added as a desktop picture, on the Extras page.
Multiplex News & Updates
Bonus comics, drawings, and
other awesome stuff
Saturday, May 20, 2017
Hello! If you're in the area, come meet me at Wizard World Philadelphia with Phil Kahn of Guilded Age. We'll be at Booth 1702. NOTE: I will only be there from June 2–4. No Thursday preview for me.
(Here's a floor plan for your planning pleasure.)
If you use the coupon code GUILDED, you can get 20% off your advanced ticket orders.
I will have copies of the brand-spankin'-new, not-even-officially-released Multiplex: The Revenge (Book Three) in tow, draw sketches (for monies), and if my iPad has any juice in it, I'll show you some behind the scenes stuff from the Multiplex 10 short, too.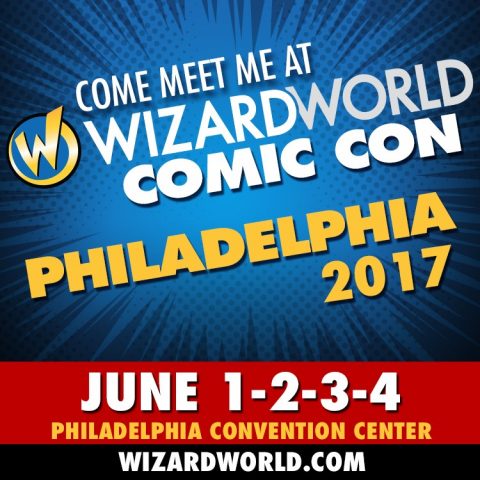 Other Recent Posts